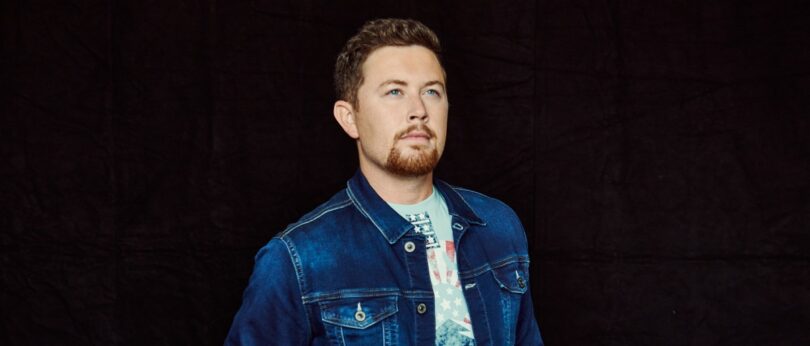 Scotty McCreery turns 28 on Friday, October 9. While there are a few things that we already know about the singer, like he won Season 10 of American Idol, and he has been married to his wife, Gabi, for three years, there's still plenty of other things we can learn about him. Read on to find out more about one of country music's most beloved stars.
1. He used to work in a grocery store.
Before McCreery became famous for being on American Idol, he was a bagger at the North Carolina grocery store chain, Lowes Foods.
2. He has a dog named Moose.
At the beginning of 2019, McCreery and Gabi welcomed a new addition to their family: a yellow lab named Moose. The beloved dog even has his own Instagram page.
3. He hates squash.
It's true! McCreery likes all kinds of foods, especially spicy Cajun food, but told Everything Nash he absolutely loathes squash.
4. Two years before he won American Idol, he won a local talent show called Clayton Idol.
McCreery was only 15 when he performed for Clayton Idol, a talent show in Clayton, North Carolina. Although it was his first competition, he nailed his delivery of Jamey Johnson's "In Color," and won the show.
5. He attended North Carolina State University, studying Communications.
McCreery could have just gone full-time into music after high school, but he wanted more education, as well as to experience college life. He attended North Carolina University, studying Communications. Although he tried to do full-time, he realized it was too grueling while working on music, so he switched to part-time instead.
"I felt like (professors) were empathetic but not sympathetic," McCreery told the Chicago Tribune. "They understood what I was going through, but they also had the mindset of 'if you're going to be a student, you're going to be a student … They didn't want to give me any special gradings, which is what I wanted. If I'm going to do it, I'm going to do it."
6. He is part Puerto Rican.
McCreery is one-fourth Puerto Rican. His father, Michael, was born in Puerto Rico to a Puerto Rican mother and an American father, making McCreery partly Puerto Rican, although he does not speak the language.
7. He likes Reduced Fat Cheez-Its.
McCreery told Sounds Like Nashville  that his favorite snack isn't just Cheez-Its, but the Reduced Fat Cheez-Its. We'll just assume they taste a bit different than the regular ones.
8. He went back to high school to finish his senior year in person.
McCreery could have finished his senior year online, but he wanted the entire experience. He won the CMT Award for Breakthrough Video of the Year, for "The Trouble with Girls," on June 6, 2012, and then hopped on a plane with his family to make it in time for his graduation the next day.
9. He was almost named Evan instead.
His parents planned on naming him Evan throughout his mother's pregnancy. But it wasn't until they were en route to the hospital that they decided to switch his name to Scott.
10. His wife, Gabi, used to doodle "Mrs. Gabi McCreery" on her notebooks in elementary school.
The two met in elementary school, with Country Now stating that his now-wife was apparently smitten by him even as a child enough to write "Mrs. Gabi McCreery" on her notebooks. The two officially started dating in high school.
11. He's a die-hard New England Patriots Fan.
McCreery can blame his father for his love of the Patriots.
"He's from the very southern tip of Maine – Elliot in the Kittery area – and then Portsmouth, N.H.," McCreery told Patriots.com. "He grew up a Boston sports fan, so that's all he knew and he passed that down to me here in North Carolina. I'm like the lone wolf, but it's fun to be a Patriots fan down here because most folks, they're Pats haters for sure. That makes it more interesting."
Want to watch more exclusive artist interviews? Click HERE to subscribe to our YouTube channel.