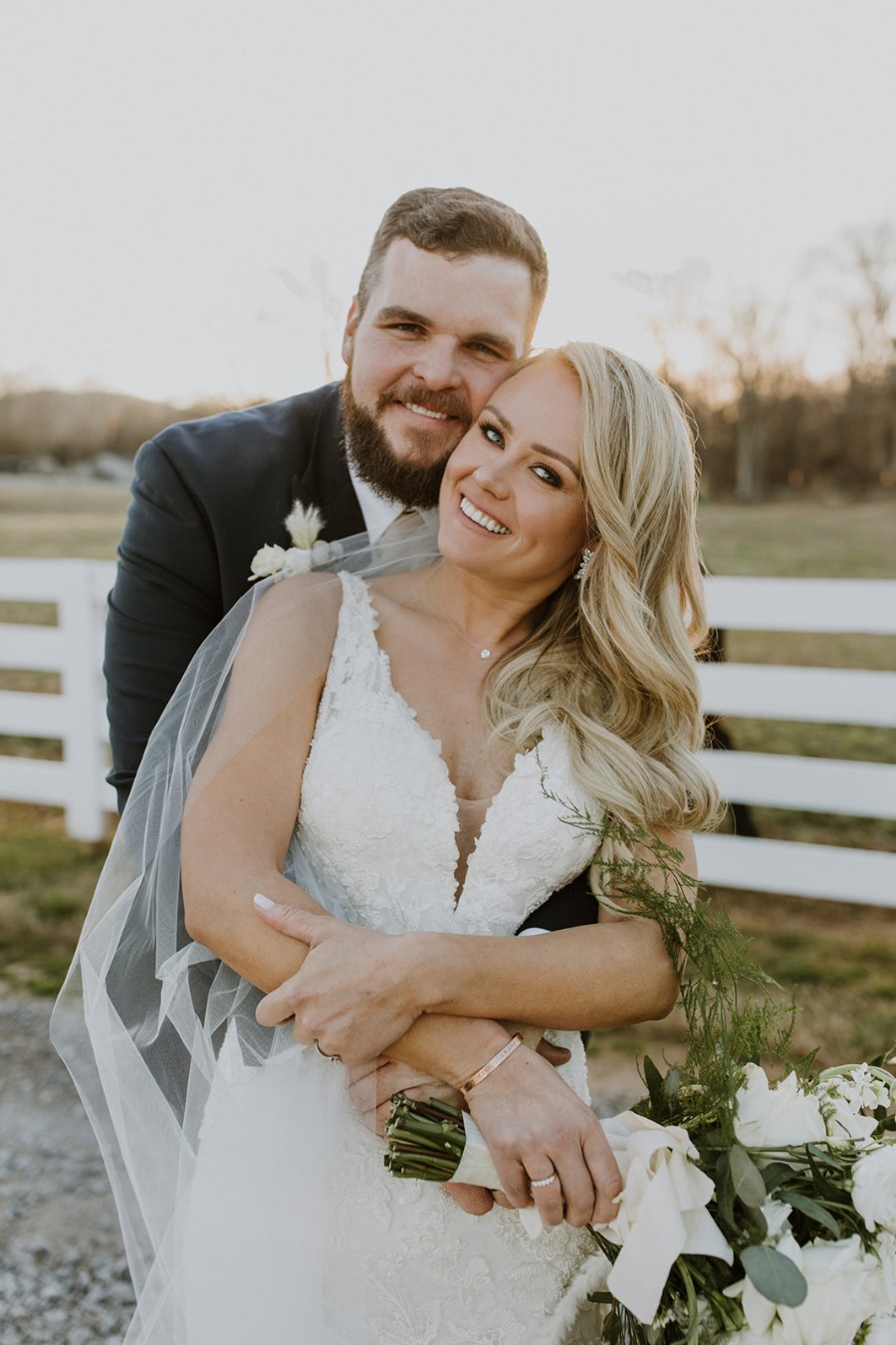 Happy anniversary to Jake Hoot and his wife, Brittney! The couple tied the knot on March 7, 2021, at Saddle Woods Farm in Murfreesboro, Tennessee, located just outside of Nashville.
Hoot and Brittney wrote their own wedding vows, although Hoot admitted he struggled to control his emotions as he was reciting them to his bride and his daughter, Macy, from a former relationship.
"I got very emotional reading my vows to both Brittney and Macy and then singing a song to my soon-to-be wife talking about my journey with her," Hoot told  People.
Hoot and Brittney knew each other for several years before they began a romantic relationship. The two met when they were asked to sing together at a wedding, although sparks didn't exactly fly after their initial introduction.
"We have known each other for almost eight years now," Hoot told Everything Nash in early 2021. "Both of our best friends, her best friend and my best friend, got married. She was living in California at the time … I was going to college here in Tennessee and we were sending soundbites back and forth to rehearse this song for their first dance. We met at the rehearsal dinner, rehearsed it once or twice, sang it and then went our separate ways, and didn't talk to each other for another six years."
The two later found themselves on a mission trip together, where Hoot became interested, but they both felt the timing was wrong. But on their next mission trip, sparks flew, and their romance began.
"It just seemed like it was the perfect time," Hoot later recalled. "And so, we reconnected and decided, 'Hey, this is it.' We decided to move fairly quick because we're both 32 and we're like, 'Well, let's just not waste any time. Let's just go ahead and do it.' So I'm very excited, and I'm very excited to see what the future holds."
In July, the couple welcomed their daughter, Madilyn Bri, into the world.
"One week ago today, I experienced the biggest miracle of my life!" Brittney shared on social media. "We welcomed our 'Little Feet' into the world, and could not be more in love with her!  She's the most beautiful thing I've ever known. I never knew that my capacity to love someone could become so deep, and this profound. Everyone meet our little angel."
Brittney, a nurse, has also sung with her husband on some of his songs, including "Wherever Time Goes." Hoot wrote the song with Houston Phillips and Michael Farre, inspired by both Macy and Brittney.
"It came from a sense of, all three of us are parents and married, and we were all talking about just how fast time continues to go as you get older," Hoot explains to Everything Nash. "You're gonna spend that time somewhere, whether it's on your phone, whether it's on the computer, whether it's a video game system, whether it's out fishing. And as it goes quicker and quicker, I feel like it gets more and more precious because it just does seem like there's not as much of it. And so, we talked about that special person being where that time went as you go along."
All of Hoot's music can be found at JakeHoot.com.