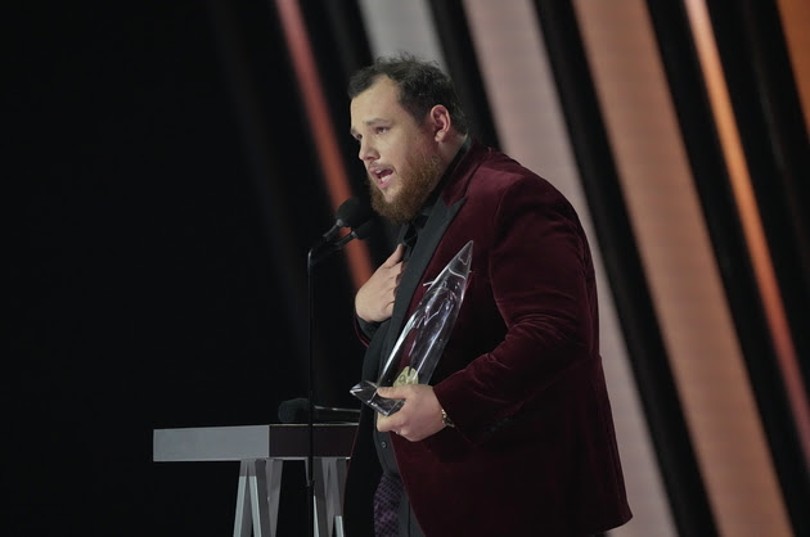 The 2021 CMA Awards are a wrap, but what a ceremony it was. Helmed by Luke Bryan, who made his CMA Awards hosting debut, it was a night filled with celebration, along with a few surprises. Keep reading to relive some of the night's biggest, and sweetest, moments.
Jimmie Allen winning New Artist of the Year
If there was an award for the most heartfelt acceptance speech, it would likely go to Jimmie Allen. The singer, who just ended his time on Dancing With the Stars, was nominated in a category that included Ingrid Andress, Gabby Barrett, Mickey Guyton and HARDY, and clearly never imagined he would walk away with the trophy.
"First I want to thank my father, who is no longer with us, for introducing me to country music," Allen said. "Five years ago, I spent my last hundred dollars, and came to the CMA 50th to watch Charley Pride perform on stage, and I got to perform with him last year … After 10 years of being here, living in my car, living in a trailer, working every job, this is amazing."
Well deserved, @JimmieAllen ❤️ pic.twitter.com/JJZ3aODf4t

— CMA Country Music (@CountryMusic) November 11, 2021
Carly Pearce winning Female Vocalist of the Year
Carly Pearce, who shared the Female Vocalist of the Year category with Barrett. Miranda Lambert. Ashley McBryde and Maren Morris, previously said it felt like a win just to be nominated in the category. The Kentucky native was clearly stunned to hear Amy Grant and Lauren Daigle call her name, giving a heartfelt and emotional speech, with a little help from McBryde, who joined Pearce in solidarity.
"I really didn't think this was going to happen," Pearce said from stage. "I want to thank my record label, Scott Borchetta and Big Machine Records … I've had just a crazy year and I just want you guys to know that this means everything to me. Country music saved me in a time that I needed it, and I just want you guys to know that this is all I've ever wanted."
A very emotional @CarlyPearce accepts the #CMAawards trophy for FEMALE VOCALIST OF THE YEAR for the first time, with a little help from fellow nominee @AshleyMcBryde! #WomenSupportingWomen ❤️ pic.twitter.com/O19X6Sph7a

— CMA Country Music (@CountryMusic) November 11, 2021
Faith Fennidy introducing Mickey Guyton
Faith Fennidy was 11 years old when she was sent home from school because her braids were called a distraction. Mickey Guyton heard her story and wrote the song, "Love My Hair," which she performed on stage alongside Brittney Spencer and Madeline Edwards, each donning their natural hair. But it was what Fennidy said before the performance that was one of the higlights of the night.
"A few years ago, I was sent home from school because my braids were said to be a distraction," the young girl said. "It was devastating for me. But this next artist created this song to make sure girls like me feel seen and loved. And that's how you turn something very painful into something very positive. With your help, we can work together to ensure the next generation grows up in a respectful and open world for natural hair."
Luke Combs Winning Entertainer of the Year
By the time the Entertainer of the Year category was announced, Chris Stapleton had won all four categories he was nominated in, so it seemed logical that Stapleton would take the Entertainer of the Year category as well. So when Alan Jackson called Luke Combs' name instead, it took the "Cold as You" singer a few seconds to realize he was really the winner of the night's highest honor.
"I'm really kind of at a loss for words," Combs said. "Alan Jackson said my name twice, just now, but I honestly don't know what to say. I've never written a speech for something like this, which is not serving me very well right now. I just want to thank everybody in this room, the fans, every artist in this room. Every single person that was nominated for this award this year and every year before deserves to win it. I don't deserve to win it, but I'm sure as hell glad that I did."
Luuuuuke! Watch as @LukeCombs accepts the #CMAawards trophy for ENTERTAINER OF THE YEAR for the first time! pic.twitter.com/1v3TOmShc8

— CMA Country Music (@CountryMusic) November 11, 2021
Russell Dickerson with Utah teen, Sarah Fei
Almost a year ago, Russell Dickerson surprised Utah teen Sarah Fei, with a new, fully-equipped vehicle that would allow her to drive, after she lost both legs due to injuries sustained when she was hit by a drunk driver. Dickerson invited Fei to join him on the red carpet at the CMA Awards, where he surprised her by revealing that she would also be joining him on stage, to introduce Bryan's performance of "Up."
See all of the 2021 CMA Awards winners here.
Photo Credit; Josh Brasted/CMA