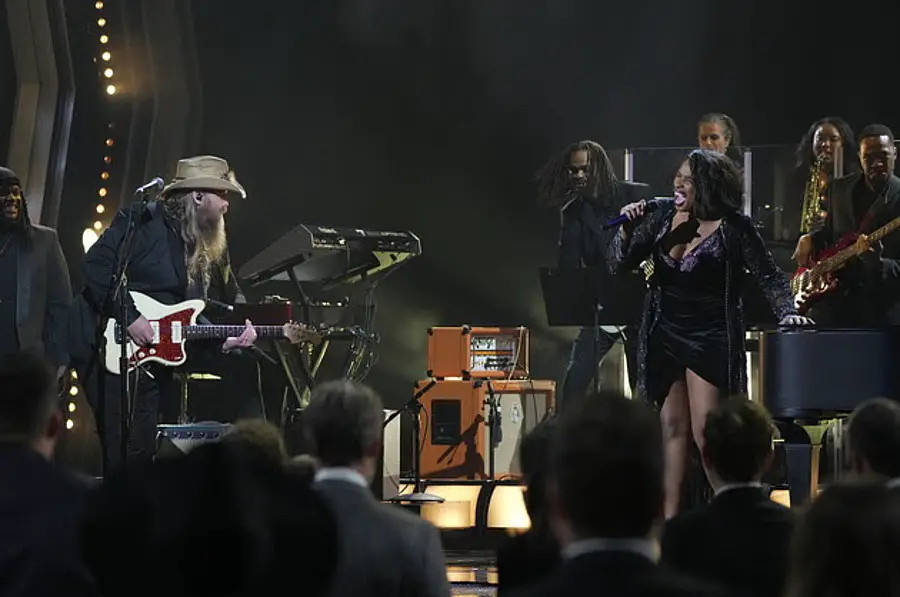 The 2021 CMA Awards might be where trophies are handed out, but it's also a night filled with live music. Whether it was an all-star duet, a few guest artists or a stunning acoustic performance, we rounded up ten of our favorite performances of the night.
Thomas Rhett skipped the bells and whistles to perform his current single, "Country Again." Rhett gave a stripped-down performance of the song, which is the title track of his Country Again: Side A album, reminding us why he will always be one of country music's greatest performers.
Blake Shelton, "Come Back As A Country Boy"
Blake Shelton performed his new single, "Come Back As A Country Boy," and it's clear he believes every word in the song, which was written by HARDY, Jordan Schmidt and Josh Thompson. Shelton calls the song "an anthem for everyday hardworking country people out there," and he couldn't be more right.
Jason Aldean and Carrie Underwood performed their recent No. 1 hit, "If I Didn't Love You," and while they are both happily married to other people in real life, they delivered the song as powerfully as if it was their own story. Starting from opposite stages before uniting together, we hope this is one of many live versions the two perform together.
Brothers Osborne slayed their performance of "Younger Me," but it's what TJ Osborne said before their performance that brought the house down. After coming out in February, TJ began their time on stage by celebrating his acceptance into country music, something he wasn'ts ure he would ever receive.
"For many years I would watch this show, year after year, and I always thought how incredible it would be, and I would dream of being up here on this stage," TJ said. "There were so many things that were so many hurdles for me, and I always truthfully felt that it would never be possible, because of my sexuality to be here. And I just wish my younger me could see me now."
Keith Urban has never been able to dial in a performance, and the CMA Awards were no exception. Urban gave a rowdy — and wild — performance of his current single, "Wild Hearts," Urban started his performance walking down the middle of Broadway in downtown Nashville, guitar in hand, heading towards Bridgestone Arena, where he joined his band on stage.
Dan + Shay, "I Should Probably Go to Bed"
Dan + Shay likely wouldn't know how to give a bad performance, but their live performance of "I Should Probably Go to Bed" is one for the books. With Dan Smyers at the piano, and Shay Mooney delivering his signature soaring vocals, their live version of this song is hard to top.
Mickey Guyton with Brittney Spencer and Madeline Edwards, "Love My Hair"
Mickey Guyton was joined by Brittney Spencer and Madeline Edwards for a powerful version of "Love My Hair," complete with their glorious own natural hair. The song was inspired by Faith Fennidy, who was removed from her school at age 11 after she was told her braids were "a distraction." Fennidy introduced the powerful song.
The title of the song Eric Church performed, "Heart on Fire," which happens to be his current single, couldn't be more appropriate. Church took the song's title literally, lighting the stage on fire during his hot performance, which included letting his killer band member, Joanna Cotten, have her moment to shine.
From the moment Ashley McBryde started singing the first verse of "Never Wanted to Be That Girl," Carly Pearce's current single, the crowd was mesmerized. The song, which the two singers wrote together with Shane McAnally, shows two sides of one tangled love story, which both Pearce and McBryde expertly delivered, both on the album and on stage.
Jennifer Hudson and Chris Stapleton, "You Are My Sunshine"
Jennifer Hudson made her CMA Awards debut, honoring Aretha Franklin by singing "Night Life," backed by Chris Stapleton on guitar. But it was when Stapleton joined Hudson in front of the stage, to trade vocals on "You Are My Sunshine" that the audience inside the entire arena exploded, with the two trading vocals for the remainder of the song.
The 2021 CMA Awards are currently available anytime On Demand or to stream on Hulu.
Photo Credit: Josh Brasted/CMA