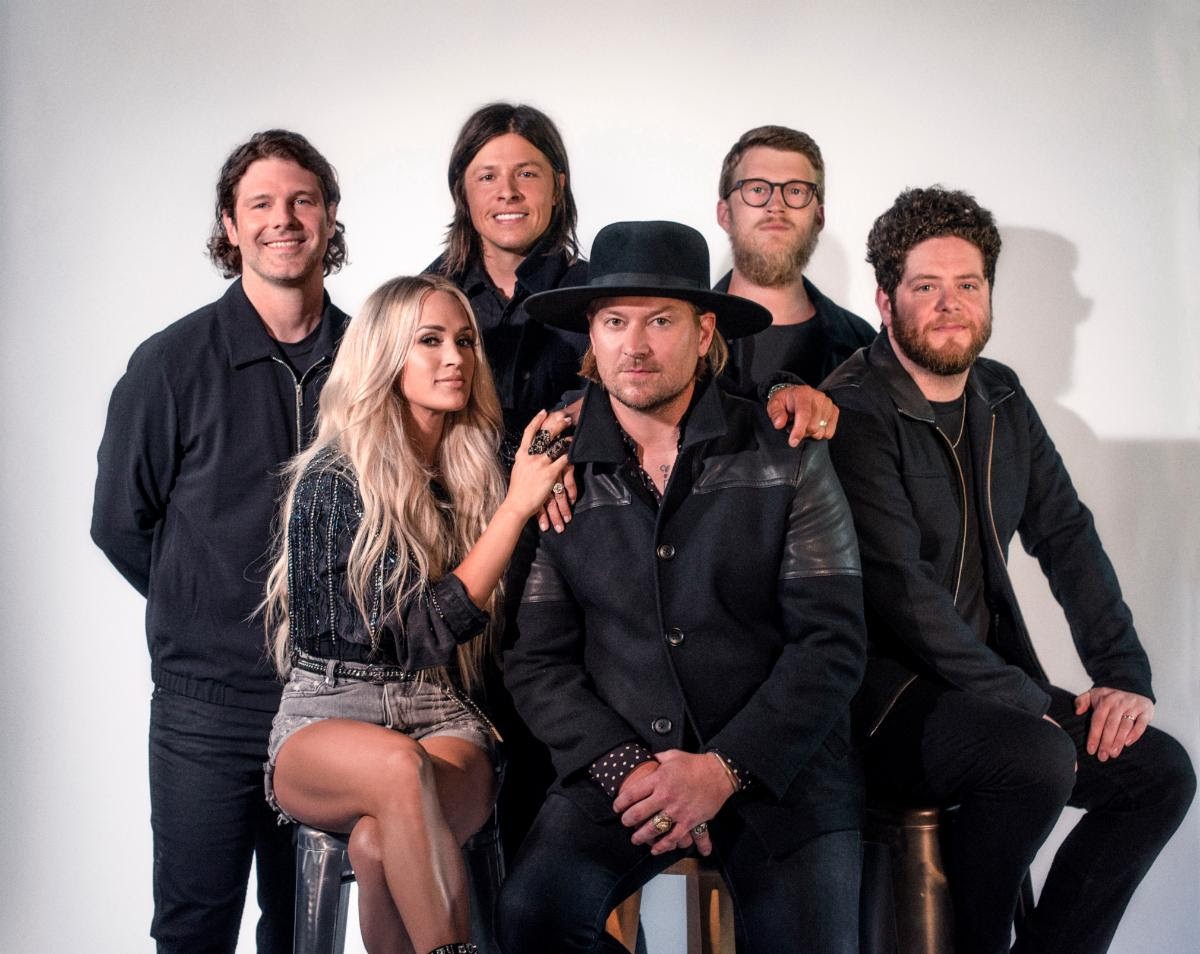 The 2021 CMT Music Awards returned in a big way. Hosted by Kane Brown and Kelsea Ballerini, the ceremony included not only handing out trophies, but several killer performances and all-star collaborations. See 10 of our favorites below.
1. Carrie Underwood and NEEDTOBREATHE, "I Wanna Remember"
Carrie Underwood announced last month that she was joining NEEDTOBREATHE on their new single, "I Wanna Remember," from their upcoming Into the Mystery record.
"I have been a huge fan of NEEDTOBREATHE forever and I was so honored when the stars aligned and Bear agreed to lend his incredible vocals to a song on my recent gospel album," Underwood previously said. "Needless to say, I was thrilled when he and the band invited me to be a part of their new project. I love the song and have had the best time getting to know and sing with these amazingly talented guys."
2. Chris Young and Kane Brown, "Famous Friends"
Chris Young loves "Famous Friends," his current single with Kane Brown, so much that he decided to make that song the title track of his next album.
"This song has really made a name for itself with how much people love it," Young told People. "Going into the album launch right here in the heat of the summer with a song that's becoming one of the songs of the summer, it made a lot of sense to call this Famous Friends."
3. Thomas Rhett, "Country Again"
Thomas Rhett returned to his roots, literally and figuratively, with "Country Again." The song is from his recent Country Again: Side A album.
"It's one of my favorite songs I've written yet and honestly just feels full circle in so many ways … it's about the crazy journey I've been on over the last decade and ultimately finding my way back home," Rhett said of the song.
4. Lady A with Carly Pearce and Lindsay Ell, "Like a Lady"
Both Carly Pearce and Lindsay Ell joined Lady A on their current single, "Like a Lady," with Pearce sharing vocals with the trio, while Ell provided her undeniable guitar skills, all while rocking a cast on her leg after breaking her foot over the weekend.
"Hilary sent that to Charles and I. and immediately I was transported to the stage, the summer amphitheaters we get to do in country music and we all love," Haywood previously told Everything Nash and other outlets of the song, which Scott wrote with Dave Barnes, Michelle Buzz, Martin Johnson and Brandon Paddock. "I think this is the song that that is hoping to propel us towards the end of the pandemic and getting some positive music out there to let us start getting ready for buying tickets and getting ready for shows … I'm so proud of Hillary. I love Charles and I and all of our masculinity loves singing along and singing harmonies to this tune. It's such a jam and so proud of our girl, our leading lady on this one. She crushes it."
5. Mickey Guyton with Gladys Knight, "Friendship Train"
Mickey Guyton and Gladys Knight sang together on "Friendship Train." The song was originally recorded by Gladys Knight & the Pips.
"Her hits were country songs and it just really goes to show that country music looks like so many different things," Guyton told Entertainment Tonight of collaborating with Knight. "And this a time for everyone to come together and show the different faces, shapes, sizes and colors of country music and this is a beautiful time."
6. Brothers Osborne with Dierks Bentley, "Lighten Up"
Brothers Osborne and Dierks Bentley teamed up for "Lighten Up" from the Bonnaroo Farm in Manchester, Tennessee, located just outside of Nashville. The song is from the duo's 2020 Skeletons record, but it isn't their first collaboration. They previously sang together on Bentley's "Burning Man" single as well.
"I've just been really lucky to work with people like these guys where it's all about the music and friendship," Bentley previously said of his friendship with Brothers Osborne. "It's rare to find that outside of Nashville and a really unique thing that is happening in country music right now."
7. Miranda Lambert with Jon Randall and Jack Ingram, "Tequila Does"
Miranda Lambert joined Jon Randall and Jack Ingram to perform "Tequila Does." The song is from their joint The Marfa Tapes album, written and recorded in Marfa, Texas.
"I was in Texas with Jon Randall and Jack Ingram, in Marfa," Lambert previously said (via The Boot). "Last time we went to Marfa, we wrote 'Tin Man,' so there was good mojo there. And we were hanging out, drinking tequila, and I feel like every time I drink tequila, everything's better. Not the next day! But right then. So we were like, 'What are we gonna write about?' And I was like, 'Well, tequila seems to be trending. Maybe we should write something about tequila,' as I'm shooting my one-too-many Casamigos. So we wrote this one about tequila, that sounds just like Texas, and it's one of my favorites."
8. Lauren Alaina with Jon Pardi, "Getting Over Him"
Lauren Alaina and Jon Pardi sang together on "Getting Over Him." The song is her current single, and the title track of her latest EP.
"This whole EP I was like 'You know what, it's time for the break-up. It's time for the break-up phase. We went through a couple of those; let's tell this story," Alaina told Apple Music's Back Porch Country. "And 'Getting Over Him' is one of the sassier ones. It's like, how you get over somebody. You find a new boy to flirt with. And I got Jon Pardi to do it with me and he's one of my greatest friends. He's like a brother to me so its kind of funny that we sing this song about flirting together, but he's the perfect guy for it. Like literally, the perfect guy."
9. Luke Combs, "Cold As You"
Luke Combs performed "Cold As You" from Nashville's Assembly Hall, complete with his full band. The song is one of the bonus tracks from Combs' 2019 What You See Is What You Get record.
"I wrote this song with two of the same guys that I wrote 'Beer Never Broke My Heart' with," Combs said of the song. "I think it's very similar. The idea was actually Shane Minor's idea, and he's a really awesome guy and was willing to let me and Jonathan [Singleton] and Randy [Montana] kind of take the little bit of a start that he had and run with it. And I'm super pumped to have another kickass song with two of my favorite guys and one of my new buddies in Shane Minor."
10. Kelsea Ballerini with Paul Klein of LANY Perform "I Quit Drinking"
Kelsea Ballerini and LANY's Paul Klein gave an unforgettable performance of "I Quit Drinking," from a rooftop bar in downtown Nashville. The two wrote the song together, which she announced only a few days before the CMT Music Awards, which she also hosted.
guyssss @thisisLANY and I wrote a song together and get to perform it live for the first time ever for you this Wednesday on the @CMT awards IM SO STOKED ✨ https://t.co/3XISqKXYmY pic.twitter.com/xhIGWOidUC

— Kelsea Ballerini (@KelseaBallerini) June 8, 2021