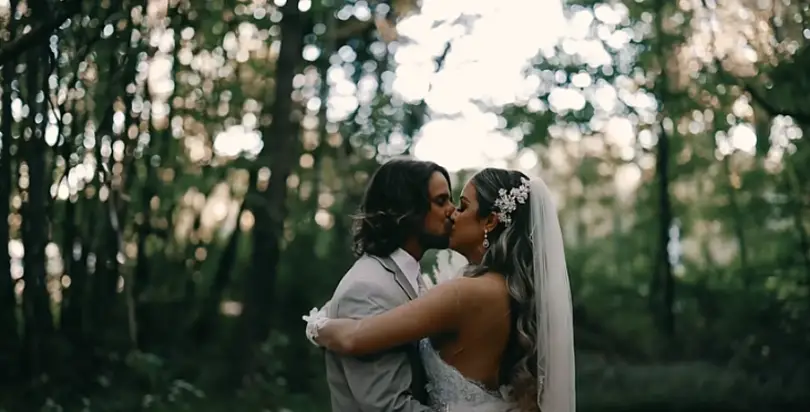 Alexandra Kay's video for "That's What Love Is," is out! The song was written for Kay's  2021 wedding with her husband, Indiana Touchette, with the video showing footage from the couple's magical day.
It's fitting that Kay used her wedding as the backdrop for the "That's What Love Is" video, since the song was written for the wedding ceremony.
"My now-husband and I were together for eight years prior to getting married," Kay said on TikTok of the sweet song. "When I started to think about songs that I wanted to dance to at our wedding, I couldn't find anything that really summed up everything that we went through in those eight years, in order to get us to this moment of saying 'I do.' So I wrote one."
Kay wrote "That's What Love Is" as a way to honor the ups and downs of their relationship, which began when they were just teenagers.
"At my wedding, I wanted to toast to all of the hard times we made it through to get to this moment," Kay shared on TikTok. "So I wrote a song."
Kay and Touchette are currently enjoying their newlywed status on the road. Kay joins Brandon Davis and Russell Dickerson in serving as the opening act on Tim McGraw's McGraw Tour 2022. But watching Kay's career take off is something Touchette has been doing — and supporting — for years.
"I have never met anyone like Indiana before," Kay boasted to People. "He is truly something special. When my music career started to take off and we had to spend so much time apart, it was a true test of our relationship. In these times I realize how loyal, trusting and dedicated Indiana is to our relationship and I knew he was the one."
The McGraw Tour 2022 might be Kay's first major tour, but she is already earning high praise from her tour boss.
"They were doing great covers and some originals and I thought it was a great opportunity for them," McGraw told Pollstar of Kay and Davis. "I also thought that they brought a lot of new energy and they're both very positive people. Together with Russell Dickerson, who has had a bunch of No. 1s and brings such a fun show – I thought they would all fit our tour perfectly."
Find "That's What Love Is" and all of Kay's music at AlexandraKayOfficial.