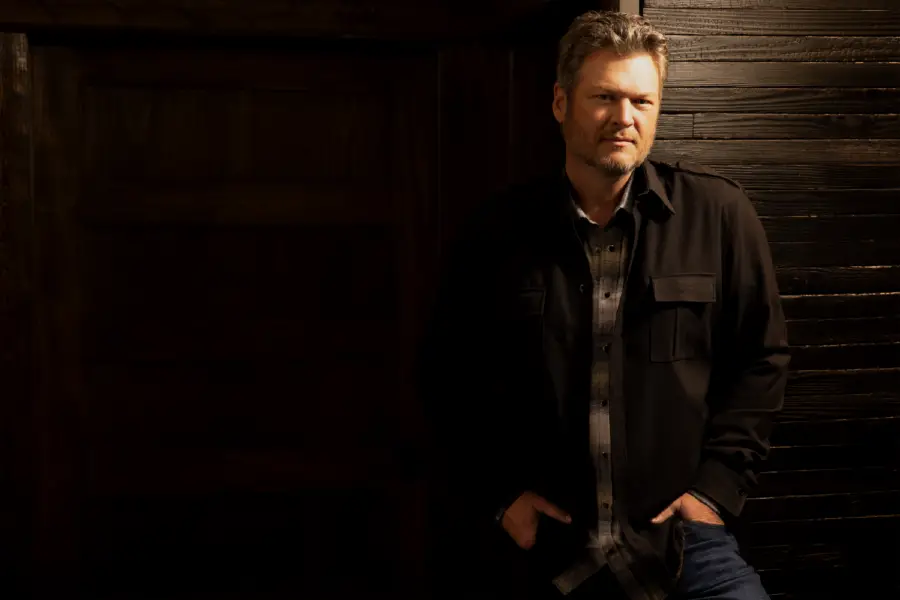 Blake Shelton is finally letting fans hear the touching song, "We Can Reach the Stars," which he sang at his wedding to Gwen Stefani. Written by Shelton and Craig Wiseman, Shelton used the song as his vows to Stefani during their intimate ceremony.
"Gwen and I decided we were going to write our own vows for the wedding, but I decided to surprise her by writing a song instead," Shelton said of "We Can Reach the Stars." "I reached out to my buddy Craig Wiseman, who is a world-class songwriter, to help me write and structure something that would stand the test of time. I'm really proud of 'We Can Reach The Stars' and I'm really honored to be with her. That's why we got married in the first place. That's why we wear rings… because we want everyone to know. I'm thrilled to share this song with the world."
Shelton wasn't nervous about Stefani liking "We Can Reach the Stars," but he was worried about the logistics of singing it to her during the ceremony.
"I had rehearsed it so many times, in the bathroom or when we weren't together or whatever, that I really had it down," Shelton said on Late Night with Seth Meyers. "The only thing I was concerned about it was breaking the barstool that they had for me to sit on. That was literally something that was in my mind, like, 'Wouldn't it be great if I sat on this thing …?' But I didn't. I made it through."
It was the wedding's officiant, Carson Daly, who suggested Shelton and Stefani use personal vows in the ceremony, never expecting that Shelton would deliver his in a song.
"I went to them months ago and said, 'I think you guys should write your own vows. We shouldn't just do the repeat after me,'" Daly said on the Today Show. "They were really reluctant to do that, but they decided to. It's two of the best songwriters in the world; we want to hear your words."
"At the wedding, Gwen starts, and she wrote this, 'Since I was a little girl …' And she crushes it, not a dry eye in the church," he continued. "It was so perfect. I said to Blake when she was done, 'Top that, buddy.' And Blake starts by saying, 'Gwen's always giving me a hard time about not writing enough songs, so I wrote a song.' Guitar comes in frame, stool, next thing you know, he wrote her a song. He sings her a song while he's crying that he wrote specifically for her. … Not a dry eye in the house. That was really a highlight. It was a bunch of pinch-me moments. It was just their family. It was small. It was perfect."
"We Can Reach the Stars" will be included on Shelton's upcoming Body Language Deluxe album, out on December 3.
"A lot of people have asked me about it since they found out that I did that," Shelton said. I want people to hear it. I mean, my God, I married Gwen Stefani, I want everybody to hear that. That's the ultimate bragging rights."
Body Language Deluxe is available for pre-order here.