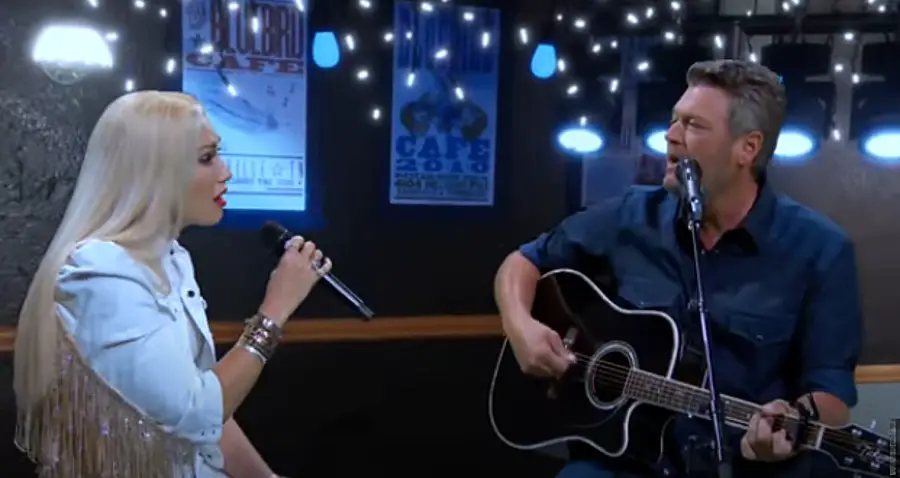 Blake Shelton has plenty of awards and accolades, but his biggest accomplishment might be marrying Gwen Stefani, at least according to him. The 45-year-old will include the song he wrote for Stefani, "We Can Reach the Stars," for their intimate wedding ceremony, on his upcoming Body Language Deluxe album. For Shelton, it's a way to honor his new bride, while also stroking his ego just a bit.
"I'm putting out a deluxe version of the record we have out now, and we're gonna put it on there," Shelton shared on Late Night with Seth Meyers. "I'm excited for people to hear it. A lot of people have asked me about it since they found out that I did that. I want people to hear it. I mean, my God, I married Gwen Stefani, I want everybody to hear that. That's the ultimate bragging rights."
Shelton insists he wasn't nervous about any part of their wedding day, except the logistics of when he sang "We Can Reach the Stars" to Stefani.
"I had rehearsed it so many times, in the bathroom or when we weren't together or whatever, that I really had it down," Shelton says. "The only thing I was concerned about it was breaking the barstool that they had for me to sit on. That was literally something that was in my mind, like, 'Wouldn't it be great if I sat on this thing …? But I didn't. I made it through."
Shelton previously said he wanted other people to hear the song he wrote as a tribute to Stefani, whom he dated for six years before tying the knot.
"I think it's something I want to share because I'm really proud of it," Shelton tells SiriusXM's Storme Warren of the song, which he wrote with hit tunesmith Craig Wiseman. "To me, a marriage, a ceremony, you're not keeping it private when you get married to somebody. You're announcing to the world, 'Hey, this is my wife, just so everybody knows.' That's why we wear these rings. This is where we're together now. And I feel that way about the song. It's for me something that I want people to hear and know, because I'm proud to be married to Gwen and so proud of that song."
Shelton just dropped "Come Back As A Country Boy" from his upcoming Body Language Deluxe album. The record, which also includes his "Happy Anywhere," duet with Stefani, will be released on December 3. It is currently available for pre-order here.