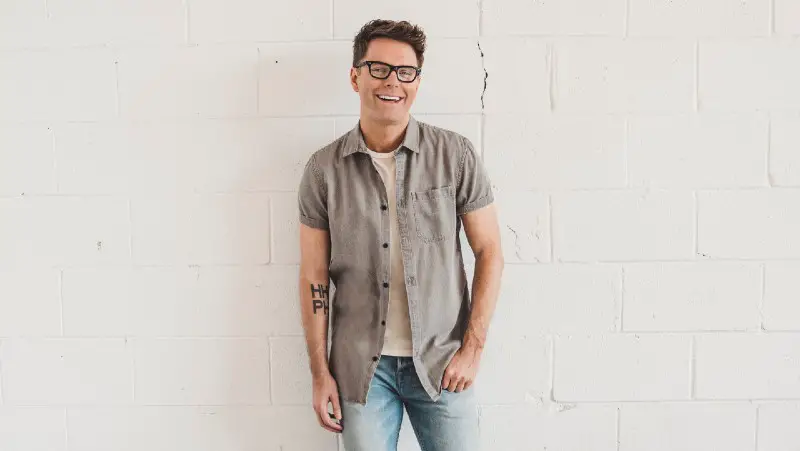 Bobby Bones and his wife, Caitlin, have been married for two months, tying the knot in their backyard, as part of a star-studded ceremony that included Dierks Bentley, Jake Owen and Chuck Wicks among the guests, with performances by Dan + Shay, Gary LeVox and Brooks & Dunn.
Although still very much in the newlywed phase of their marriage, Bones says married life is going very, very well.
"We're just together all the time," Bones tells Everything Nash. "We were before we were married. I guess now it's a lot of the same, except she just can't run away as fast. That's what I feel like, like I got her, like I caught the fish. You're in the boat. It's hard to flop out of the boat. You might get off the line, you might break the line or, or get off the hook. But once you're in the boat, it's kind of hard to get out. I feel like that's kind of where I got her. So it's going well, I guess."
Bones has parlayed his success as host of the iHeartRadio Bobby Bones Show into other opportunities as well, including serving as a mentor on American Idol, his own Breaking Bobby Bones show on National Geographic, and winning Season 27 of Dancing With the Stars. But the 41-year-old says there is one thing he would really like to do, which would involve a lot more time at home, and a lot less time in airplanes.
"I would love to do a talk show here in Nashville, so I don't have to travel," Bones reveals. "I have a lot of my friends here. I think that's probably in the next couple of years, a goal of ours will be to do a talk show from Nashville in some form. But I love the radio show. It's my favorite thing to do still today, and to be able to use that as a platform, to be able to give back and to do things."
Bones is using that platform once again to partner with Purina Dog Chow, as part of their annual Service Dog Salue, in honor of Service Dog Awareness Month. The program, which takes place in September, helps provide service dogs to veterans experiencing PTSD. It's a cause Bones has proudly partnered with for the last few years.
"On my radio show, we have really dialed in to helping our military for as long as I've been doing the show, for 20 years or so," Bones tells Everything Nash. "We try to build a military member a home every year, one that's been through some physical trauma. We try to support families, but something about animals always draws me in."
It was when Bones realized that the cost of service dogs made it prohibitive for most veterans returning from service that he decided to act.
"I thought, 'There's no way that someone that's been fighting for our country comes back and just has $20,000 to throw down on the dog," Bones says. "And so we started to raise money and buy dogs on the show."
Find more information about Service Dog Salute, including ways to help, by visiting dogchow.com/service.
Want to see more exclusive interviews? Click here to subscribe to our YouTube channel.