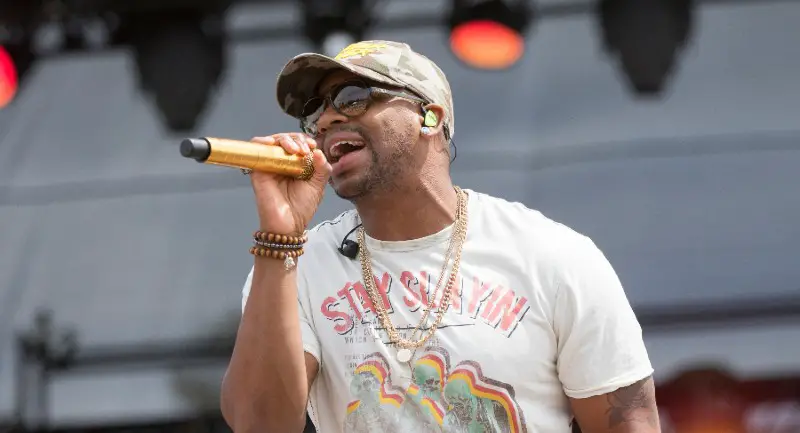 Jimmie Allen made his debut on Dancing With the Stars on Monday, September 20, performing alongside DWTS pro Emma Slater. While Allen might seem to have an edge over his competition, since he is used to performing on stage night after night, the Delaware native says he doesn't think his career as a country music singer will necessarily translate into success on the dancing floor.
"The advantages? I don't think I have any," Allen tells ABC. "I don't think I have any advantage. I think if I can get more camera time talking and just hanging out than dancing, and let people judge me off of that, we're good. We're gonna take that mirrorball home."
Allen does say he has very little experience with dancing, especially the kind that is performed on Dancing With the Stars.
"I have no idea what I'm doing," Allen says. "I did musical theater, but it's a completely different style. I realized that the first day of rehearsals. I was like, 'Goodness! What am I doing out here?'"
Allen revealed he was joining the cast of Dancing With the Stars while at his favorite place: Disney.
"It feels great," Allen gushed on Good Morning America. "I proposed to my wife at Disney. We had our baby reveal at Disney. I've gone like 70 times since 2012. It's pretty bad. But there's worst things to be addicted to. So why not give all my money to the Mouse?"
Allen reached out to several of his famous friends, who have previously been part of the reality TV talent show, for advice ahead of the show's opener.
"I talked to Chuck Wicks, he did it," Allen says. "Lauren Alaina. I actually talked to AJ [McLean]. Rashad Jennings, Bobby Bones. I know Nelly did it last season. They said it's gonna be difficult, but it's fun, and they're not lying. These rehearsals … I never ballroom danced a day in my life. It's rough."
Dancing With the Stars airs on Monday nights at 8:00 PM ET on ABC.
Want to watch more exclusive artist interviews? Click here to subscribe to our YouTube channel.