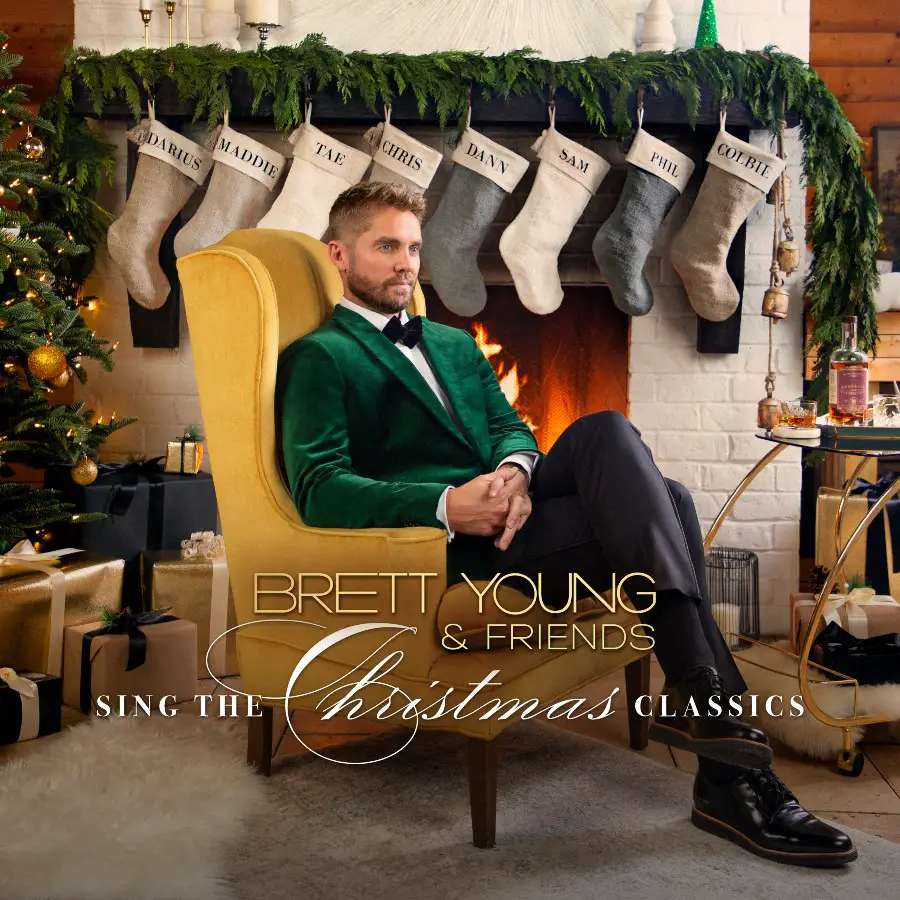 Talk about a star-studded project! Brett Young just announced his first-ever holiday album, Brett Young & Friends Sing The Christmas Classics, featuring an all-star cast of collaborators, including Darius Rucker, Chris Tomlin, Colbie Caillat, Sam Fischer, Dann Huff, Maddie & Tae and Phil Wickham joining Young on all eight songs on the project.
"I've always known that I wanted to make a Christmas album one day," Young says of the record. "It was just a matter of figuring out how I could do something a little bit different. We tapped into an old school, lo-fi sound with 'Silver Bells,' and knew we had the blueprint for a full album. It means the world that so many incredible artists who I respect were open to singing with me on the project… we don't take the title 'Brett Young and Friends' lightly!"
Young and his wife, Taylor, just welcomed their second child, Rowan Marie, in July, becoming a little sister to Presley, who will turn two in October. The California native had more time at home than he ever has before, due to the pandemic, which became an unexpected blessing in disguise.
"I didn't miss my daughter's first steps," Young told E!. "I didn't miss her first words. There's a very obvious silver lining to be at home for the past year and a half.I was very productive with my time. I made a record. I made a baby. I was home and I did it right."
Young already dropped one of the songs, "Have Yourself a Merry Little Christmas," featuring Fischer. A CMT Crossroads with Young and the guests on Brett Young and Friends will be announced shortly. A track list is available below. The album, out on October 22, is available for pre-order here.
Young's latest album, Weekends Look a Little Different These Days, was released in June. He is currently on his The Weekends Tour. Find music and concert dates at BrettYoungMusic.com.
Brett Young and Friends Sing The Christmas Classics Track List:
"Silver Bells"
"White Christmas" ft. Colbie Caillat
"The Christmas Song (Chestnuts Roasting On An Open Fire)" ft. Phil Wickham
"The Chipmunk Song (Christmas Don't Be Late)" ft. Dann Huff
"Silent Night" ft. Chris Tomlin
"Let It Snow! Let It Snow! Let It Snow!" ft. Maddie & Tae
"Rockin' Around The Christmas Tree" ft. Darius Rucker
"Have Yourself A Merry Little Christmas" ft. Sam Fischer