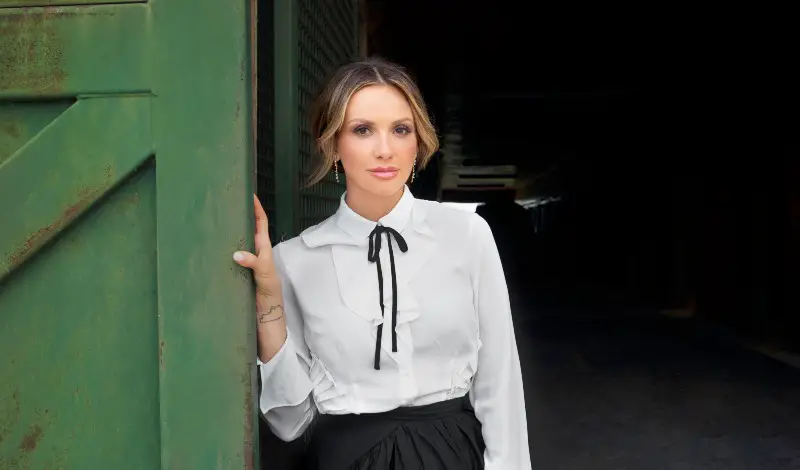 Few people have had such a rapid rise to country stardom as Carly Pearce. The Kentucky native had a massive hit with "I Hope You're Happy Now," and earned a CMA Awards nomination for Album of the Year, for her telling 29 EP.
Pearce just released 29: Written in Stone, is serving as direct support for Lady A, on their What a Song Can Do Tour, and will head out on her own The 29 Tour in November. She also is officially a member of the Grand Ole Opry, after being invited by Dolly Parton. We recently caught up with Pearce, to find out some fun facts about country music's next superstar.
1. If you weren't a singer, what would you be?
A nutritionist or something in sports medicine.
2. What is your mandatory bus snack?
Pita chips or hummus.
3. When were you the most star struck?
Dolly.
4. Biggest pet peeve?
People who chew with their mouth open, and when they're late. I am not a late person.
5. What has been your biggest splurge so far?
I bought one of the new Broncos.
6. What's your worst habit? 
Shopping. It's a problem. I really like clothes, and I really am good at online shopping, unfortunately.
7. What's your perfect day off?
Probably go for a run, not be rushed. Hanging out with my dog, have wine and dinner somewhere fun with people that I love.
8. What is a food you hate?
Yellow squash.I like zucchini fine. It's yellow squash. I don't know — it's the consistency or something. I just can't do it.
9. What is the farthest you have ever run? 
13 miles. I've done a half marathon and then I quit because I will never run a full marathon.
10. Something most people don't know about you?
I'm actually painfully shy at my core. I could walk in a room sometimes, and I think people mistake me for being standoffish, if it's not my show or something. But I'm actually quite nervous and would be fine to just  blend in with the room.
11. Dream duet partner?
Dolly.
Want to watch more exclusive artist interviews? Click HEREto subscribe to our YouTube channel.