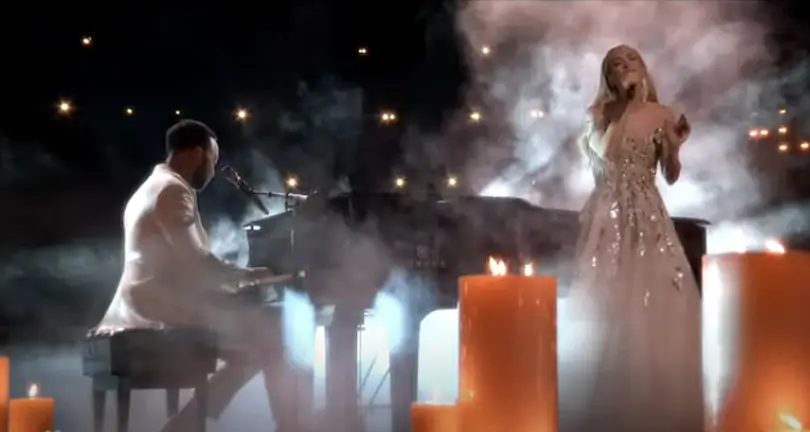 The Season 21 finale of The Voice included several epic performances and collaborations, including Carrie Underwood and John Legend performing "Hallelujah," The song appears on Underwood's 2020 My Gift Christmas album.
"We hope this song gets everyone in the Christmas spirit," Underwood said in a video posted on social media ahead of their performance. "Happy holidays!"
Legend penned "Hallelujah" and sent it to Underwood, who in turn asked him to join her on the song.
"I was deep into making the album, and this one came in. He sent it to us kind of at the end," Underwood recalled onToday's Country Radio With Kelleigh Bannen on Apple Music Country. "It was like, 'Well, I love the song. I feel like this is a puzzle piece I didn't know was missing, but now that I've heard it, I have to have it, And so we just put the ask back, 'Thank you for sending. Do you want to sing a part with me, too?'"
Underwood released My Gift (Special Edition) in September. The record has all of the original tracks, plus three new songs: "Favorite Time Of Year," the Michael W. Smith classic, "All Is Well," and  "Let There Be Peace / Something In The Water," which is a live recording from the HBO Max's MY GIFT: A Christmas Special From Carrie Underwood," which aired last year.
The American Idol alum, who just wrapped the first leg of her REFLECTION: The Las Vegas Residency, recently celebrated My Gift being certified gold, for sales in excess of 500,000.
I got to unwrap an early Christmas gift…a GOLD plaque for #MyGift! I am so happy and thankful that you guys love this album, and I hope it's something you can enjoy every Christmas for years to come! #FavoriteTimeOfYear 🎁 ✨ pic.twitter.com/baIaBjtVU4

— Carrie Underwood (@carrieunderwood) December 14, 2021
Underwood and Legend performed "Hallelujah" together as part of the two-night season finale of The Voice, with the Girl Named Tom sibling trio crowned the winner.. Other performances of the two-night finale included Coldplay, Alicia Keys, Walker Hayes and more.