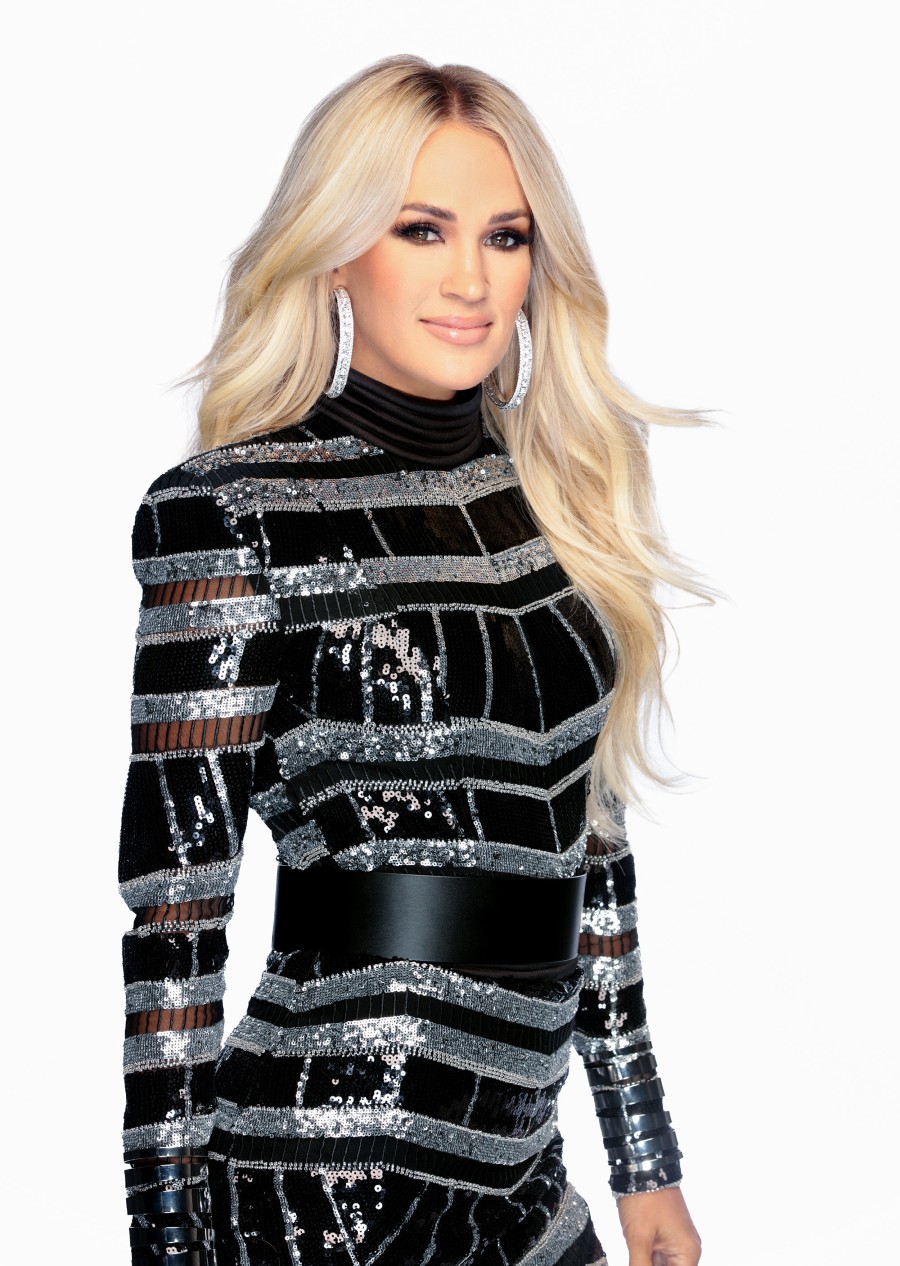 Carrie Underwood will once again be the voice of Sunday Night Football opening song, a position she has held since 2013. This year's performance was shot at Industrial Light & Magic's cutting edge LED sound stage, utilizing the company's StageCraft LED virtual production technology, which was recently used in The Mandalorian. The 2021 Sunday Night Football show opener will, for the first time, feature a virtual football tailgate as a backdrop for Underwood's performance of "Waiting All Day For Sunday Night," a song she has performed since 2019.
"Shooting the new show open for Sunday Night Football is one of the highlights of my year," Underwood says. "I just love the fact that we get to reinvent it every year. The team behind these shoots is incredible and it's always a really fun day, especially this year getting to work with such amazing state-of-the-art technology."
Underwood also spoke out about the honor on social media.
Here we go — year 9 with @SNFonNBC and I think we've created the best opener yet! We've got some pretty awesome technology for this one and I can't wait for you all to see it on September 12 on @nbc and @peacockTV! https://t.co/Wep6h31Exb 📸: Chris Haston/NBC pic.twitter.com/Wmq3UIRQIv

— Carrie Underwood (@carrieunderwood) August 23, 2021
The video will also include cameos from both NFL stars and fans' self-recording from former tailgates.
"We are excited about this year's new collaboration with Carrie, which utilizes virtual production technology to generate real-time environments for Carrie's performance, including a 'tailgate' to salute this game's great fans, who have been 'waiting all day for Sunday night' and will be incorporated with their own user-generated tailgate videos," said Tripp Dixon, creative director of the SNF show open.
The news comes as Tennessee Titans coach Mike Vrabel reveals he has tested positive for COVID-19.
"As of now, I'll be in quarantine, following the protocols, and trying to do my best to help the football team while I am (home)," Vrabel said (via TennesseeTitans.com). "I am very confident in our football team, our coaching staff, our organization, that no matter what the situation is, we'll handle it."
See a complete Sunday Night Football schedule below. More information can be found at NFL,com.
2021 NBC Sunday Night Football Schedule
Thurs. Sept. 9 NFL Kickoff Dallas Cowboys at Tampa Bay Buccaneers
Sun. Sept. 12 Week 1 Chicago Bears at Los Angeles Rams
Sun. Sept. 19 Week 2 Kansas City Chiefs at Baltimore Ravens
Sun. Sept. 26 Week 3 Green Bay Packers at San Francisco 49ers
Sun. Oct. 3 Week 4 Tampa Bay Bucs at New England Patriots
*Sun. Oct. 10 Week 5 Buffalo Bills at Kansas City Chiefs
*Sun. Oct. 17 Week 6 Seattle Seahawks at Pittsburgh Steelers
*Sun. Oct. 24 Week 7 Indianapolis Colts at San Francisco 49ers
*Sun. Oct. 31 Week 8 Dallas Cowboys at Minnesota Vikings
*Sun. Nov. 7 Week 9 Tennessee Titans at Los Angeles Rams
*Sun. Nov. 14 Week 10 Kansas City Chiefs at Las Vegas Raiders
*Sun. Nov. 21 Week 11 Pittsburgh Steelers at Los Angeles Chargers
**Thurs. Nov. 25 Week 12 Buffalo Bills at New Orleans Saints
*Sun. Nov. 28 Week 12 Cleveland Browns at Baltimore Ravens
*Sun. Dec. 5 Week 13 San Francisco 49ers at Seattle Seahawks
*Sun. Dec. 12 Week 14 Chicago Bears at Green Bay Packers
*Sun. Dec. 19 Week 15 New Orleans Saints at Tampa Bay Buccaneers
*Sun. Dec. 26 Week 16 Washington Football Team at Dallas Cowboys
*Sun. Jan. 2 Week 17 Minnesota Vikings at Green Bay Packers
*Sun. Jan. 9 Week 18 TBD