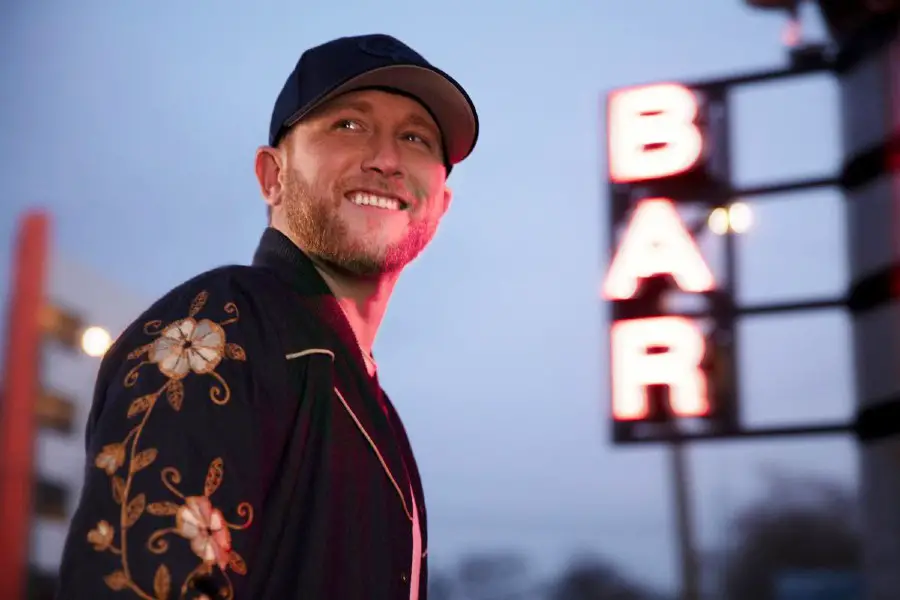 Cole Swindell has been a mainstay on country radio for years, first as a songwriter before having a successful career as an artist as well. Swindell turns 39 on June 30, so we are celebrating with these 11 fun facts about his life and career.
1. He is from a small, small town in Georgia.
Swindell was born in Bronwood, Georgia to William and Carol. Bronwood has a population of only 251, The town might be small, but Swindell is still proud of it, even featuring it in the video for his single, "Right Where I Left It."
"I love where I'm from and I have always been proud of that," Swindell told Entertainment Tonight. "Southwest Georgia means everything to me, and to be able to write a song with my buddies that kind of explain what it's like to go home is pretty special. I get to travel so much, but home is always going to be home."
2. He met Luke Bryan through their alma mater, Georgia Southern University.
Swindell went to Georgia Southern University, majoring in marketing, several years after Luke Bryan also attended the same college. The two met at the Sigma Chi fraternity house, where they were both members, years apart, after Bryan returned to the frat house when performing a show near the college, and they kept in touch. After college, Swindell began selling merchandise for him on the road.
"He played a song and I remember the way it made me feel, and I was like 'I have to be able to do that,'" Swindell told Taste of Country.
3. He has written songs for Bryan, Scotty McCreery, Thomas Rhett and more.
Before launching his own artist career, Swindell signed a publishing deal, earning cuts bey several other artists. He wrote Craig Campbell's "Outta My Head," Scotty McCreery's "Water Tower Town," Thomas Rhett's "Get Me Some of That," among others. Swindell also wrote several songs that Bryan recorded, including "Roller Coaster," "Beer In the Headlights," "Out Like That," "In Love With the Girl," "Love In a College Town," and more.
"The first time I heard it, it was one of the first songs that I knew would be on Crash My Party," Bryan said of "Roller Coaster." "I listened to it, and it just floored me – the visuals of it, and obviously the fact that I grew up going to the beach – and the guys who wrote it, Michael Carter and Cole Swindell, have been in my life for years."
4. His father died unexpectedly in 2013, right after Swindell signed his record deal.
Swindell's father died suddenly in 2013, when a truck he was working on fell on him, only two months after Swindell signed his record deal with Warner Music Nashville. Swindell wrote about the loss of his father in "You Should Be Here," with the video showing footage of him telling his father he was going out to celebrate his record deal.
"From start to finish, it was one of those things where we both had chills when we were writing it," Swindell told The Tennessean of the song, which he wrote with Ashley Gorley. "It felt so real to me, but everybody can relate. I've been able to experience so many things since I've had my record deal. I just know that he was proud, but I know that these moments – if he was there and could share it with me – it would be even better. This song is kind of my every moment."
In September of 2021, Swindell's mother also tragically passed away.
5. He calls Dierks Bentley one of his biggest influences.
Swindell has always been a fan of Dierks Bentley, who remains one of his biggest influences. Bentley collaborated with Swindell on Swindell's No. 1 single, "Flatliner" in 2017, with Swindell also serving as the opening act on Bentley's What the Hell Tour that same year.
"I'll never forget from his first album on, ever since 'What Was I Thinkin'' came out, every song and every album, it wasn't just the singles. I was covering songs in college that never saw the radio, just every song on his album because I just loved his music that much," Swindell said (via Sounds Like Nashville).
"For somebody to influence me that much and want to write songs and make people feel the way he made me felt when I listened to his music, it was amazing to finally get to meet him and realize he's just as good of a guy as he is an artist and a songwriter," he continued. "People like that are what we can look up to and learn from because he's been around a lot longer than I have and he has one of the best reputations I've ever heard of in this town and that's because he's a good guy too
6. He is happily in love.
In 2021, Swindell began dating Courtney Little, who inspired the love songs on his latest Stereotype record.
"I think any time before now, it might have been just what the audience wants to hear," Swindell said of including romantic songs on the record. "I know that I've had a lot of breakup songs. They're not love songs … I always say, 'I can't write or sing a song unless I've been through it, want to go through it, or it makes me feel something. And I think that's why I haven't recorded too many up until this album.'
7. He loves Hattie B's.
If Swindell gets to pick where he eats, chances are good it's going to be at Hattie B's, at least if he's in Nashville. Swindell loves Hattie B's hot chicken — just not too hot.
"I love that place," Swindell told Sounds Like Nashville. "I'm medium [spice level]. Yeah, I think I've gotten the one up from medium before and it was just a little much. Medium's about good for me but I'm glad they at least have levels because I've ordered hot chicken before and it's like I can't even  get through it."
8. He has his own line of moonshine.
Swindell launched his own line of moonshine in 2019. After having so many things to celebrate, Swindell wanted the perfect drink to toast his accomplishments, so he created one. partnering with Sugarlands Distilling Company to launch his own moonshine.
"It's crazy to think back over these five or six years since it all really started, and to see where we've come," Swindell told PopCulture.com at the time. "Every year, I feel like this has been the best year of my life, and to be able to keep feeling like that … and just doing things I never thought I'd get to do."
9. He didn't drink whiskey in the video for "Ain't Worth the Whiskey."
Video shoots typically last all day, so Swindell opted to not drink whiskey for his "Ain't Worth the Whiskey" video. Still, he ended up with an entirely different kind of hangover, after chugging so much tea, which he used in place of the whiskey.
"I actually have a tea buzz. I've drank more tea than I ever did growing up in Georgia," Swindell told CMT during the video shoot. "They're feeding us tea instead of whiskey, and I got water instead of beer. I've gotta be able to perform and sing and do all that. But some of my buddies, we might slip them a beer or two 'cause they're not used to this."
10. He loves '90s country, especially Alan Jackson and Reba McEntire.
Swindell grew up loving '90s country, which he credits helping him get through some hard times. While he really loves Alan Jackson and Reba McEntire, he mostly is a fan of that entire decade of music.
"Those artists, those songs are the only ones that can take me back to the feeling of falling in love with country music," Swindell told Billboard. "And that goes for anybody, any genre, any time period of music — when you go back to that, when you realize 'this makes me feel something.' That was me as a kid in the '90s, at an early age, songs were helping me out, going through a divorce with my parents, whatever it was, the songs were just always there for me."
11. He often has Ben & Jerry's ice cream in his freezer.
Swindell has one guilty pleasure, and it's Ben & Jerry's ice cream. During a Q&A session on Twitter, Swindell said he loves Ben & Jerry's especially their red velvet flavor!
.@Swindell_Fans .@ACMawards Ben & Jerry's Red Velvet ice cream!#AskColeACM

— Cole Swindell (@coleswindell) March 31, 2015