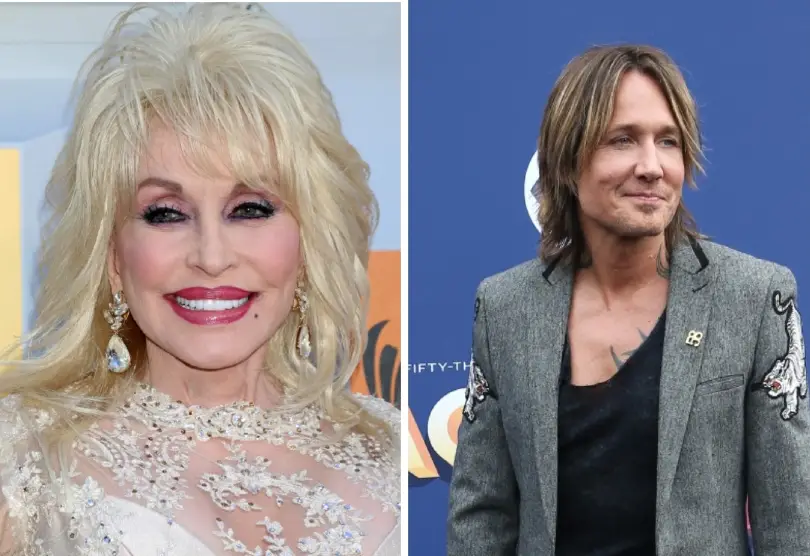 Dolly Parton just announced she is launching a new line of cakes with Duncan Hines, and now she wants to make one for one of country music's biggest stars. The 76-year-old says she would like to have Keith Urban over for an afternoon, where they can eat cake and sing songs together — but she makes it clear that Urban's wife, Nicole Kidman, is invited as well.
"I love Keith Urban,' Parton gushes to Good Morning America. "I've always thought that he was one of the most talented and cutest guys in the world — I'm not trying to hit on him, cause he's got Nicole, and who could beat that, she's Jolene. I love his writing and I just think he's dear. I'd be happy to make a big ole cake for him and spend all afternoon singing songs."
Although Urban and Parton grew up in different eras, and on opposite sides of the world, Parton feels a surprising kinship to the New Zealand-born star.
"He reminds me so much of my brothers and my own family from back home. He's from Australia but he has that feel of our mountain southern people — he'd fit right in," Parton shares. "[He] used to sing my songs with his friends back home in Australia — he knows all my music and we love the same stuff. We could let Nicole sit over and listen to us sing. I'll fix [the cake] and she can serve it and have a piece."
Cake holds a special place in Parton's heart, since it was a rare treat growing up in the mountains of East Tennessee.
"Growing up poor, we didn't have a lot of sugar, so we didn't have cakes all the time," Parton tells People. "So when Mama made special cakes, we loved being in the kitchen."
The 76-year-old remains healthy and active, but she admits carbs are her weakness, which she is happy to have — in moderation.
"I'm all for indulging as I please, [but] I have to watch it, because I've got a country girl's appetite," Parton acknowledges. "If I've been on a low-carb diet or something for a while, the first thing I want to do when I break it is to have some cake — or potatoes. That's my weakness. Usually that's why I fall off of any diet, is for the love of some sort of a potato."