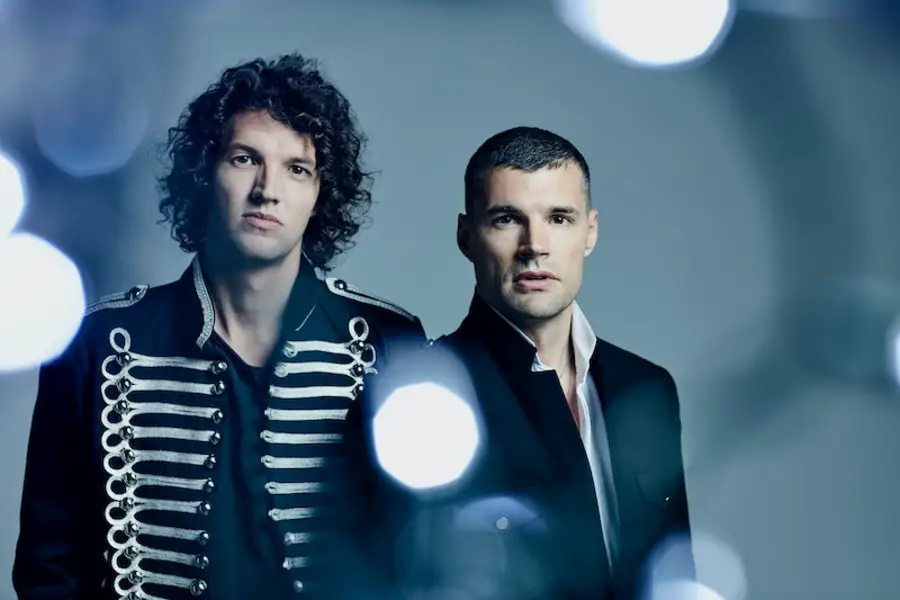 For KING & COUNTRY, the duo made up of brothers Joel and Luke Smallbone, knew that if there was ever a year to release a Christmas album, it was 2020. The Australian natives released A Drummer Boy Christmas, 13 songs, both classics and originals, which celebrate their favorite time of the year, at a time it is needed the most.
"We started as a band in 2012, and we were just so excited that we got to travel," Joel tells Everything Nash. "I mean, it was a 15-passenger van and a little trailer, but we were so excited that we got to travel in that early season as a band, that we just determined that Christmas that we were going to do a Christmas tour. Like, 'Let's just do a Christmas tour.' We had no Christmas single, no Christmas album, nothing. So we ended up kind of shoving ourselves in this old factory for two days, with very fire from the hip Christmas rehearsals, which is where we came up with some of these renditions, namely 'Little Drummer Boy.'"
In the eight years since, For KING & COUNTRY has released three studio albums, including their latest 2018 Burn the Ships record, as well as more than a dozen hit singles, such as the Burn the Ships title track and "God Only Knows." They've also won numerous awards, including four Grammy Awards, but through it all, the duo felt pulled back to the beloved Christmas carol that in many ways became the impetus for their wildly successful career.
"We've released singles and EPs and live records," Joel notes. "We've done Christmas tours, but 'Little Drummer Boy' has always been — and Christmas music for that matter — has always been something that has just been this really charming part of what we do. And not only that, but it has actually sonically even helped, I think, craft the sonic kind of template of the band, because it was just so early on."
For KING & COUNTRY has long dreamed of doing a holiday record, but it took the challenges of 2020 to make them realize the timing this year was never better to focus on Christmas music.
"We started talking about it a little while ago, but particularly when we had the tornadoes hit in Nashville, the pandemic hit," Joel shares. "I think we all knew that, 'Hey, this is the moment.' It's been a long time coming. One, we have margin to do it, because no one in the world was traveling. But secondly, when I think of Christmas this year, after the global suffering that we've all faced economically, politically, socially and so on, and obviously the pandemic being the core of all of that, we felt like this Christmas is going to be one of the great Christmases that we've ever experienced in our lifetime.
"This was finally a reprieve," he adds. "And it's not to say we're out of the woods yet, but to celebrate the greatest news that the world has ever known felt very timely. So we spared no expense. And here we are."
For KING & COUNTRY was gearing up for a massive headlining tour in 2020, marking a major milestone in their career, when COVID-19 abruptly canceled those plans.
"When you're starting out, you're just going here, there, and everywhere," Joel acknowledges. "You're just taking every opportunity. And this year we really sat down and we were very methodical … And then, four days later, we're in Toronto, singing the last notes in front of a live audience that we would sing basically for the rest of the year. So it has felt like a massive slamming on of the brakes."
The year was understandably devastating for the band and crew, but Joel instantly deflects any form of pity for how everyone is doing now.
"I do honestly have a little bit of survivor's remorse in it, I think because of the momentum and because of having this Christmas album on the docket," Joel says. "And, some of the other things that we'd already had in motion touring was a great loss, but my great empathy and sympathy, it's gone to some of our people, obviously, because we've not been able to travel as much, particularly the road crew, and so on, but it's really gone to the musical community.
"The survivor's remorse —  I've spent more time at home with my wife since we were married, and we got to work on this Christmas record and we're getting to do these drive-in shows that are actually really charming," he reflects. "So I go from feeling very grateful to feeling very guilty that we've had the year we've had."
Purchase A Drummer Boy Christmas at ForKingandCountry.com.