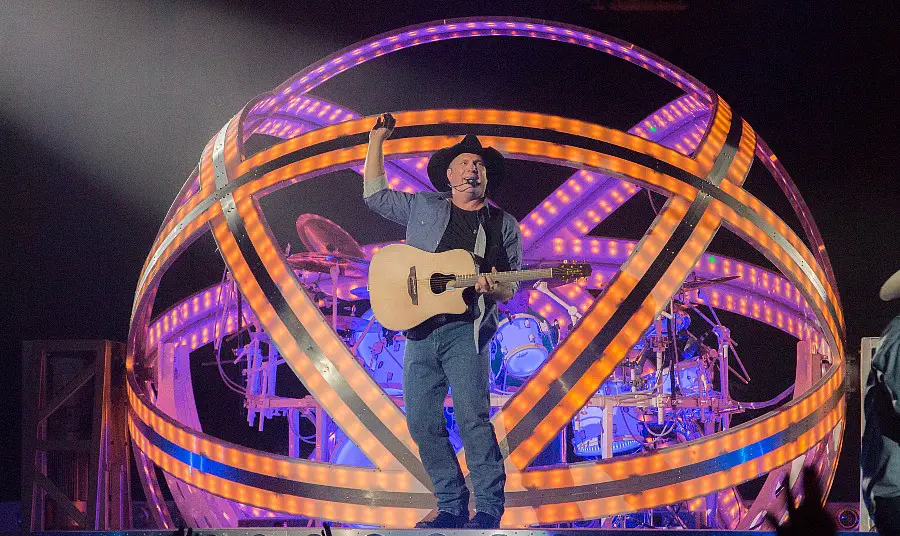 Eric Church might not be the only country singer who is adding his name to the growing list of celebrity-owned restaurants and bars in Nashville. Garth Brooks has also reportedly just purchased a downtown location, at 411 Broadway, with plans of joining artists like Dierks Bentley, John Rich, Luke Bryan, Jason Aldean and more in having a place on Lower Broadway.
Although Brooks has yet to publicly comment on the reported purchase, according to the Nashville Business Journal, "a number of public records also point to the involvement of Brooks' camp." The 42,000 square-foot space, which formerly was home to Downtown Sporting Club and Paradise Park, was sold in December for $48 million.
The Oklahoma native has previously spoken about his desire to have his own place in Music City, where he now calls home.
"Things you probably shouldn't say, I'm gonna say," Brooks hinted in 2020. "If you're betting,  bet toward it happening, 'cause it's just something that's coming. It's coming in the future, but it's gonna be done the way we do it. So it'll be its own place very much like Blake's is his own place. We're gonna do it our own way.
"It's coming," he continued. "Probably in the next two years, three years, because when you talk about Broadway, that is 'Friends in Low Places' right there. It's the perfect place."
Brooks will play at Nashville's Nissan Stadium on April 16, after his original show was canceled due to thunderstorms.
"Nashville, we're coming home…AGAIN!" Brooks shared on social media. "You were sweet to each other when the Thunder Rolled last time. I not only want to come back, I have to come back! Not for you, but for me! Let's make this a night so great we want to live it twice!"
Brooks will wrap up the final concerts on his Stadium Tour with five sold-out shows in Dublin, Ireland in September. He previously canceled several dates at the end of his 2021 tour, as cases of COVID-19 rose once again across the country, but says he has no plans to extend his tour to reschedule them.
"It was the right decision to make, even though it was not my favorite decision," Brooks said on Inside Studio G, adding that he would not try to reschedule the dates that were unfortunately canceled.
"This Stadium Tour ends, no matter what, in August or September of next year … COVID will not make this Stadium Tour go longer than it has been," Brooks maintained, adding, "I hate to say it was the right decision, because I hate the decision, and I hate being responsible because I'm an artist. Artists shouldn't be responsible. Artists should get to make stupid mistakes like all of us."
Find music and tour dates at GarthBrooks.com.