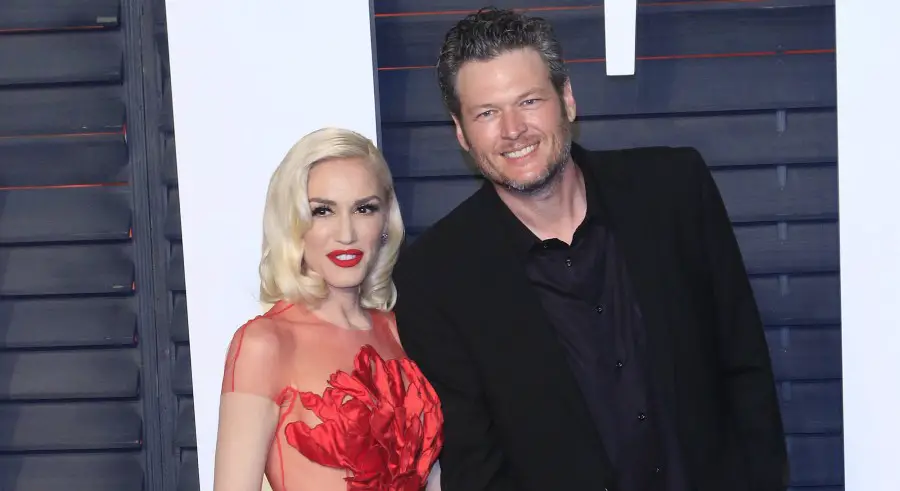 Blake Shelton finally proposed to his longtime girlfriend, Gwen Stefani, in October, after more than five years of dating. The proposal, according to Stefani, was long overdue, and she admits she was beginning to question if he would ever pop the question.
"It was pretty magical," Stefani admitted on The Tonight Show Starring Jimmy Fallon. "I wasn't expecting it at the moment that it happened, at all. I didn't have any idea. Nobody knew. I think he had told my dad on my birthday, about two weeks earlier. I gotta tell you, I was sort of like, 'What's happening with us?' It was kind of in my mind like, 'We've been together a long time now. What's going on?' I was in that place in my head."
Shelton proposed at his ranch in Oklahoma — a trip that almost didn't even happen because of the pandemic.
"We also had this trip planned to come to Oklahoma, and it was one of those COVID, not a fight, but, 'Maybe we should just cancel the trip. This is getting too hard. Everyone has to get tested,'" Stefani recalled. "Everyone was on edge, because we were going to meet up with his sister and brother-in-law, and their family … We were this close to canceling the trip. We ended up making it all happen. We were all there at the ranch, and basically it happened. Everybody was trying to make it not happen, because nobody knew it was going to happen."
Shelton hid Stefani's ring in a cabinet, and asked her to get something out of it, which is how she discovered her gorgeous ring.
"We both started bawling," Stefani said. "Everyone was in shock. There was no video. My sister-in-law to-be was there, and she just started shooting off pictures, and that's the shot that we put out. It was just a random picture."
The No Doubt singer is grateful for her beautiful new diamond, but appalled at how her future husband was storing it — in his pick-up truck!
"His truck is disgusting," Stefani said. "Things falling out, equipment, total rugged man stuff … there's a lot of junk in it, and dirt. So the fact that the ring was in the side of the door. And you're driving through trees, and it could just fall out at any point!"
The couple already said they are waiting to plan the wedding until it is safe for groups of people to gather again, even though she admits she's bummed to not already be married.
"We have no plans because of the pandemic," shared Stefani. "It's like, 'Blake, why couldn't you have done it before!' Now we can't have a wedding with the pandemic. It's like sitting, around going, 'OK, drag it out more!'"