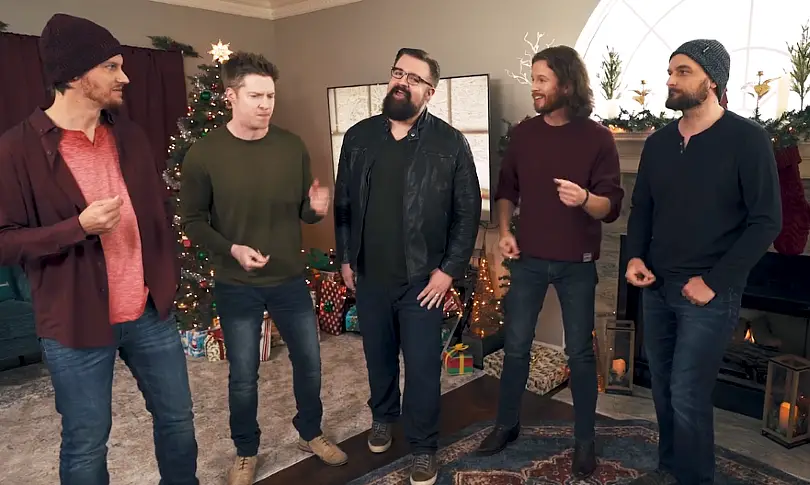 Home Free just released their last video of 2021, and what a way to go out. The all-vocal group covered the Stevie Wonder holiday classic, "What Christmas Means to Me," putting a seriously funny twist in the festive tune.
The "What Christmas Means to Me" video was filmed in Austin Brown's kitchen in May, showing off the group's cooking skills — or lack thereof — in the comedic video.
"What Christmas Means to Me" is pretty funny, but their other recent video, "Christmas Ain't For the Lonely," was much more serious. Written by  Home Free's Tim Foust, along with Chris Chatham and Darren Rust, appears on the group's Warmest Winter Christmas album.
"While many feel the warm and fuzzies around the holidays, this time of year can also feel lonely for many," Home Free said of the song. "Our new video touches on those for whom this time of year can be tough."
Foust also just dropped his first solo a cappella video, with "Come Go With Me." The song is from Foust's solo own Doo-wop album, Pieces of Me, Vol. 1, out now. It's a far cry from where Foust thought he might be one day, after originally going to college with the goal of being an orthodontist.
"When I graduated high school, I was a little bit burned out on music, because I had done it so much," Foust told The Charismatic Voice. "I had done anything you could do vocally in high school. And then on top of that, I was sort of just ignorant as to the opportunities that are out there for vocalists. You have to remember, this is in the early days of the internet … There just wasn't a ton of information out there and I came from a small town. I thought you either went on Broadway, or you got a record deal, and that was about it. I also heard that the music industry was scary and fickle, so I thought, 'All right, I'll go get a normal, stable, lucrative job.' My plan was to be an orthodontist."
Home Free just performed several songs at their Warmest Winter Tour stop at Nashville's Ryman Auditorium, including their "Go Tell It On the Mountain," collaboration with Texas Hill.
Find all of Home Free's upcoming shows at HomeFreeMusic.com.