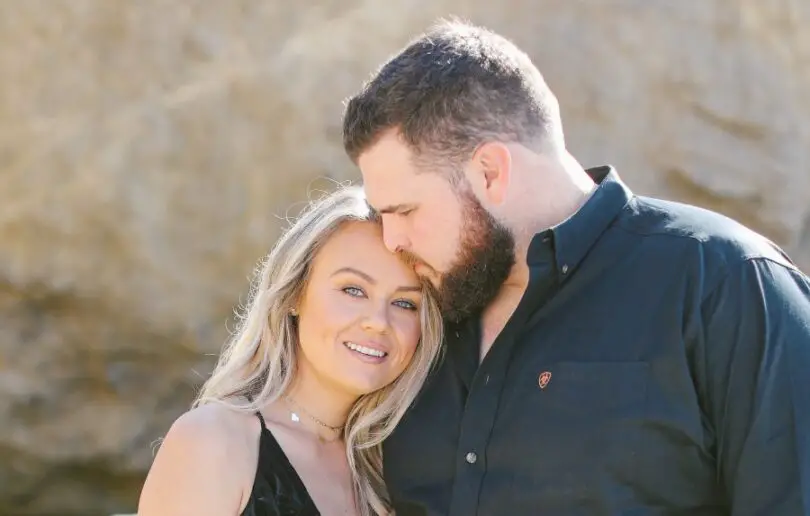 It's official! We now know that Jake Hoot and his wife, Brittney will release their first duet together, and it's just in time for Valentine's Day. The Season 17 winner of The Voice  teased a clip of the song, "Wherever Time Goes," on social media, revealing that the song would be released on February 11.
Hoot and Brritney seem to be filming a music video as well, judging by the clip Hoot posted on TikTok.
Hoot teased the duet last week, by sharing a video on Instagram of him singing with his bride, saying, "Working on something with the Queen for y'all."
Hoot also posted a video on Facebook of the two newlyweds singing together, captioning it by saying, "Looking for that perfect Valentine's Day song?," and adding, "It's also the first time I've recorded a duet with my bride, Brittney."
 

The perfect Valentines Day song doesnt exis…. Wherever Time Goes- 2/11/22. #newmusic #valentinesday #wherevertimegoes #viral #love #duet #acoustic Brittney Hoot

Posted by Jake Hoot on Friday, January 28, 2022
Brittney often joins her husband on stage, which Hoot says always gets a great reaction from the crowd, and prompted him to have her sing even more with him.
"I may have her sing some lead on some of the songs, just because she's got such a powerhouse voice," Hoot previously told Everything Nash. "So we're definitely working towards that part. She's become part of our shows. Everybody loves hearing her sing Leonard Cohen's 'Hallelujah.' She sings that. I'm trying to work her up to Sara Evans' 'Suds in the Bucket,' and a couple other songs and get her going on that, but she's definitely going to be a part of it."
Hoot and Brittney knew each other for years, but waited until the time was right to begin a romantic relationship. But once they did, both of them knew right away that it was meant to be.
"We have known each other for almost eight years now," Hoot told Everything Nash, shortly before their March wedding in 2021. "Both of our best friends, her best friend and my best friend, got married. She was living in California at the time … I was going to college here in Tennessee and we were sending soundbites back and forth to rehearse this song for their first dance. We met at the rehearsal dinner, rehearsed it once or twice, sang it and then went our separate ways, and didn't talk to each other for another six years."
"On a missions trip a couple of years ago, we reconnected and became friends," he continued. "I was interested, and tried to pursue her, but it just wasn't the right time. I was just coming out of a dark season in my life. Then she moved to Nashville because her family lived here, and we reconnected again."
All of Hoot's music, including "Night Left" and his  "I Would've Loved You" duet with Kelly Clarkson., is available at JakeHoot.com.