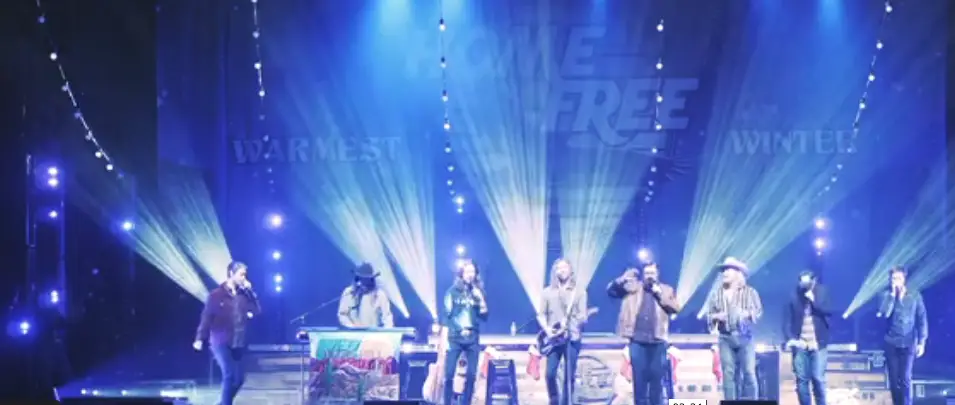 Fans who weren't able to catch Home Free's December show at the Ryman Auditorium — or those who want to relive the magic again — are in luck. Home Free just dropped the performance video of their "Dreamer" collaboration with Texas Hill.
Home Free and Texas Hill released the original version of their "Dreamer" collaboration last week, showing scenes from the sold-out Ryman show. The new video shows their performance of the song, from start to finish, including the introduction of both bands' members.
In November, the two groups released "Go Tell It On the Mountain" together, but there will likely be plenty more joint projects coming from the two superstar acts, especially after spending some time together on the road.
"I really did appreciate the vibe," Brown told Everything Nash. "It was so cool getting together. It felt like nobody had an ego. We were all just happy to hang out and talk about life and make good music. It was just so chill, and I just can't get enough of that. Especially in this town where everybody here has just got their work glasses on all the time. You know, they got their 'I'm going to work' hat. It felt like we were hanging out and making music in a way that just doesn't happen very often … It makes me want to do so much more stuff, 'cause it was just a fun hang … We definitely have to do more stuff like this, 100 percent."
Texas Hill is eager to continue working with Home Free as well, both in the studio and on the road.
"I have really never seen anybody be as kind as they were all day to us, in all regards, just truly sharing the stage with us in a way that we all really appreciated, and the crowd," Texas Hill's Casey James told Everything Nash after their first performance on the road together. "Really got it. They brought us back out at the end of the night. We did that song together that we're going to be doing very soon."
"The whole evening, the whole day really, was just really great," he continued. "I think I said thank you to everybody about ten times. And I really meant it, because things aren't always that easy when you have two different camps put in the same area. A lot of times people are too cool for school, and there's egos and attitudes. And there was really none of that. it was one of the most enjoyable times. I've had in a very long time in terms of playing shows with folks."
Texas Hill's debut album, Heaven Down Here, will be out on January 21. To celebrate, the trio will make their deubt appearance on the Grand Ole Opry on January 22. Find Opry tickets here, and pre-order Heaven Down Here at TexasHillOfficial.com.
Home Free will resume their Dive Bar Saints Tour on February 17 in Greensboro, North Carolina. Find all of their tour dates here.