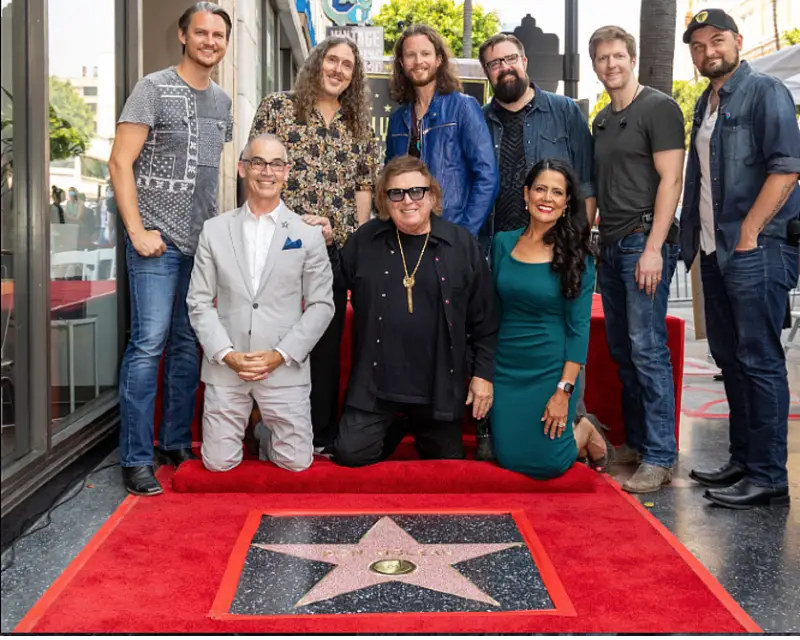 Home Free was part of an historic event for Don McLean. The all-vocal group joined McLean, along with McLean's good friend, "Weird Al" Yankovic, as McLean received a star on the Hollywood Walk of Fame on Monday, August 16.
"This is a very special day for me. Awards are given every year on those television programs, and every year a new person is named a favorite, however, this award is forever," says McLean of the honor. "This is an honor I get to share with friends, fans, and whoever walks down Hollywood Boulevard."
Home Free performed "American Pie" as part of the ceremony, lauding the 75-year-old for his musical contributions over the years.
"Once again, congratulations," Home Free's Tim Foust told McLean. "It continues to be an unbelievable honor to be a very small part of an incredible legacy. So thank you so much."
Home Free and McLean recently earned multiple Telly Awards for their version of McLean's iconic song, "American Pie."
"Recording 'American Pie' with Home Free was something that I never imagined I would have done," McLean says of their new version of the song, which came 50 years after the original recording was released. "My manager brought me the idea and I was like 'Okay, but I have never collaborated with anyone before, and why would I do this?' Then I heard their vocal harmonies and it reminded me of The Jordanaires, and then found out they don't sing at all with instruments. What happened in the studio was great, but what happened when they put it all together was magic!"
Home Free has collaborated with plenty of legendary artists over the years, but admit there was something special about performing with McLean.
"We have admired Don's songwriting for many years and to actually get in the studio with the man that not only wrote the song, but the artist that made it a worldwide anthem was really something you can only dream about,"  Home Free's Austin Brown  says. "We did the video remotely due to COVID and making sure we all stayed safe. We never thought that this video would bring home awards, let alone, be so well received by critics and fans. We are humbled and thankful for this opportunity."
Watch Home Free perform "American Pie" in the video below, beginning at 15:30. Find all of Home Free's upcoming shows on their Dive Bar Saints Tour by visiting their website.
For more exclusive artist interviews, subscribe to our YouTube channel here.