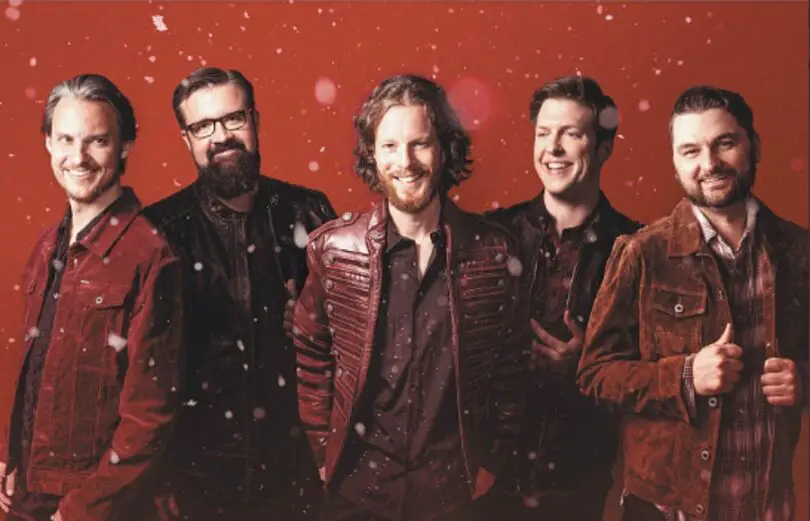 There are only a few weeks left until Home Free's upcoming Warmest Winter Christmas album is released on November 6. The 12-track record features five original songs, as well as some classic tunes, including "What Christmas Means to Me," "Tennessee Christmas" and more.
The five-man group has released several holiday albums over the years, including the recent Full of (Even More) Cheer in 2018, but that doesn't mean it made it any easier for the men to choose which holiday tunes to include on Warmest Winter
"It was extremely hard to narrow down songs because we have already recorded so many, and there are still so many to choose from," Rob Lundquist told Everything Nash. "We all brainstormed for weeks to see what covers we wanted to do, all the while Tim Foust and Austin Brown were doing writing sessions around Nashville, trying to come up with things for the record. I think every song that they presented we loved. We ended up using two of Tim's and two of Austin's, and they are awesome."
2020 has given Home Free an unexpected pause on their usual busy touring schedules, which typically only happens around the holidays, when they can finally rest and regroup, and spend time with their loved ones.
"No question, each of our favorite parts about Christmas is being able to spend time with our families," Rob shared. "Aside from this crazy year, we are typically touring non-stop, and Christmas is a time that we take off a substantial amount to stop and refresh and celebrate with our loved ones. Now that I'm a dad, Christmas has become my favorite time of year, just getting to see the excitement through the eyes of my kids."
Home Free has raised more than $129,000 so far, via Indiegogo, for their upcoming Warmest Winter holiday special, way above their original goal of $75,000, raising the initial amount in only nine hours.
"Home Fries, you never cease to amaze us, but you've outdone yourselves this time," Tim praised in a video Home Free posted on social media. "We were so excited about the possibility of hoping to be able to do something like this Christmas special, and as always, you've exceeded our expectations. In such a crazy year like this, your generosity has been an unbelievable boost to the morale of the entire Home Free team and family, so we cannot thank you enough. Thank you, thank you, thank you."
Warmest Winter includes appearances by Alabama, Rachel Wammack and Striking Matches — a diverse list of artists each hand-picked by Home Free.
"We've known Alabama for years, and we all grew up listening to their music," Rob  told Everything Nash. "We have opened for them in the past, and Jeff Cook has actually come out to one of our shows. We've been looking for an excuse to get them on a record, and 'Christmas In Dixie' seemed like the perfect collaboration. We were so excited they were down to record this with us."
Rachel joins Home Free on "Tennessee Christmas," while Striking Matches joins the group on "Run, Run Rudolph."
New incentives have since been added to the Indiegogo page, with the promise of extending the Warmest Winter holiday special by 15 to 20 minutes if $200,000 can be raised.
Purchase Warmest Winter at HomeFreeMusic.com.