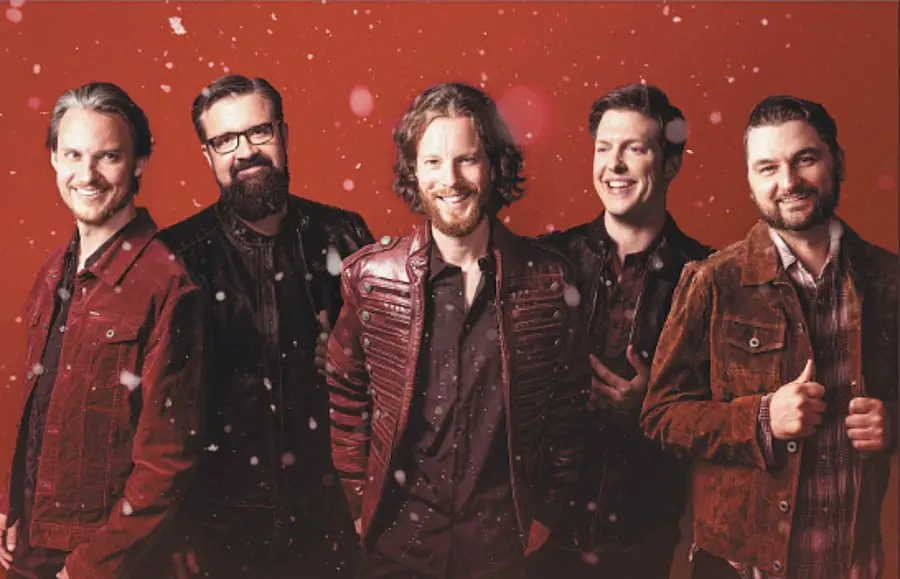 Home Free is continuing to share more details of their upcoming Warmest Winter holiday special, including where and when they will tape the show. The five-man group, who raised their initial goal of $75,000 in only nine hours, has since raised more than $161,000, and now vows to add the Oak Ridge Boys if they can raise a total of $175,000.
According to Home Free's Indiegogo page, the rehearsal will take place at the Steel Mill in Nashville on Sunday, November 1, with the taping occurring on November 2. With more than $150,000 raised, they have officially added Jeffrey East to the show, and are now hoping to add the Oak Ridge Boys as well.
"We've added another goal for everyone," Home Free hinted. "If we reach, $175,000, we'll be joined by our friends the Oak Ridge Boys. We're working on an arrangement for 'Beautiful Star of Bethlehem' that we think would be perfect for Oaks — and maybe even Jeffrey — to join on!"
Home Free has already added Rachel Wammack and Striking Matches, who both appear on their Warmest Winter Christmas album. If they get to $200,000, they will be joined by Alabama, who also appears on Warmest Winter, as well as promise to release a six-song EP, only for those who donated to their Indiegogo campaign.
AND if you help us reach $200,000, the legendary country group @TheAlabamaBand will be with us for "Christmas in Dixie" PLUS we'll release an exclusive 6-song EP to only available to our IGG supporters and nowhere else!

Check out ALL of the updates at https://t.co/PAWGHastHY

— Home Free (@HomeFreeGuys) October 25, 2020
Scott Scovil, from Moo TV will direct the holiday special. Additional guest appearances include Benny Elledge, best known for his role as Cal in Waitress, and Taylor C. Hays, whose credits include Blacklist, Person of Interest and more.
Home Free usually spends most of their time on the road, so for them, Christmas is a chance to spend time with their loved ones for more than just a few days at a time.
"No question, each of our favorite parts about Christmas is being able to spend time with our families," Rob Lundquist told Everything Nash. "Aside from this crazy year, we are typically touring non-stop, and Christmas is a time that we take off a substantial amount to stop and refresh and celebrate with our loved ones. Now that I'm a dad, Christmas has become my favorite time of year, just getting to see the excitement through the eyes of my kids."
Home Free also just released a brand-new video, "Still Haven't Found What I'm Looking For," featuring both guest artist Peter Hollens, as well as a choir of their fans, who also join them on both the track and the video.
Home Free's Warmest Winter album will be released on November 6. Pre-order the album by visiting their website.
The Indigogo campaign, which offers plenty of incentives for donations, including merchandise, meet and greets, a private virtual concert and more, can be found here.