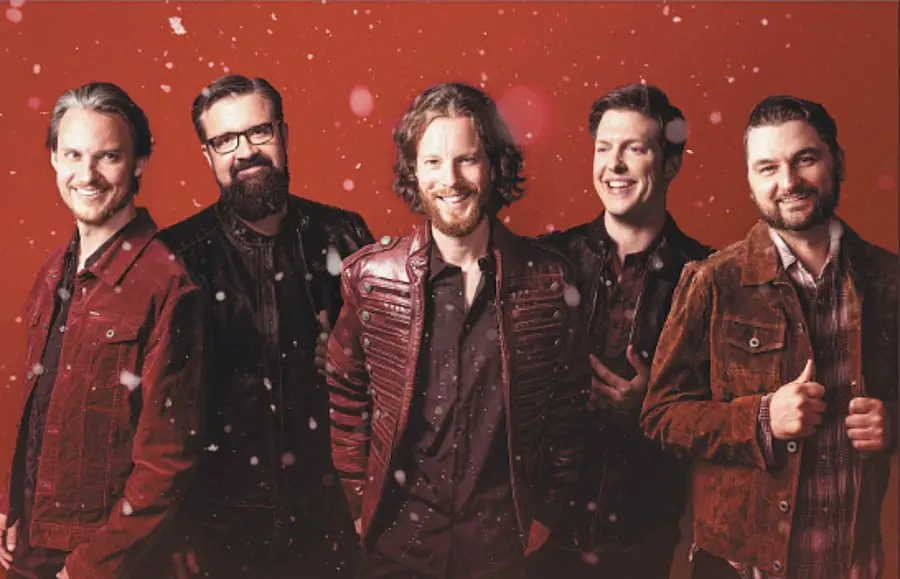 We now know a few more details about Home Free's upcoming holiday special, Warmest Winter. After raising more than $141,000, which is $66,000 more than their original goal of $75,000, the five-man group has shared a few details of their upcoming show, also revealing that they will soon gather together, in person, for the first time since the start of the coronavirus pandemic.
"Hey-yo! This weekend, the gang will be back together for the first time since March to prep for the Holiday Special!" Home Free announced on social media, adding that they would be performing with Striking Matches, Rachel Wammack and others.
Hey-yo! This weekend, the gang will be back together for the first time since March to prep for the Holiday Special! We're excited to announce that we'll be performing alongside special guests @strikingmatches, @RachelWammack and more TBA. pic.twitter.com/An9pPsuV2r

— Home Free (@HomeFreeGuys) October 21, 2020
In a separate tweet, Home Free revealed that the Warmest Winter special will be shot at the Steel Mill in Nashville, directed by Scott Scovil, from Moo TV in Nashville. As part of their ongoing fundraiser, fans who donate $30 will get a downloadable extended cut of the Warmest Winter album.
Striking Matches and Rachel, along with Alabama, each appear on Home Free's upcoming Warmest Winter album, scheduled for a November 6 release date. The 12-track record includes seven covers and five original tunes, although Home Free admits choosing the tracks for the album was a challenge.
"It was extremely hard to narrow down songs because we have already recorded so many, and there are still so many to choose from," Rob Lundquist told Everything Nash. "We all brainstormed for weeks to see what covers we wanted to do, all the while Tim Foust and Austin Brown were doing writing sessions around Nashville, trying to come up with things for the record. I think every song that they presented we loved. We ended up using two of Tim's and two of Austin's, and they are awesome."
Home Free already released "What We Need is Love" and "Christmas in L.A." With 12 days left in the fundraiser, Home Free has promised the addition of Jeffrey East if they can raise $150,000, as well as extending the holiday special by 15 to 20 minutes if they can raise $200,000. The Indiegogo fundraiser, which ends in 12 days, can be found here.