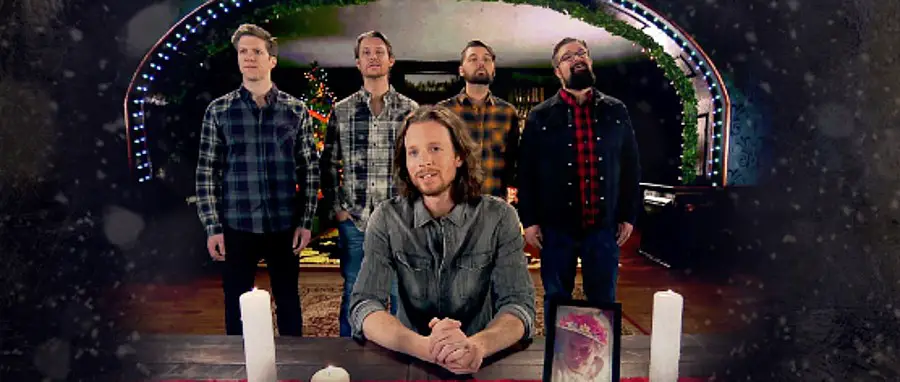 Home Free just released the video for the title track of their recent Warmest Winter album. The song, written by the group's own Austin Brown were, along with Emma Brooke and Steven Martinez, was inspired by Austin's grandmother.
"It's a very personal song because it is about his family and his grandma whose been gone for four or five years now," fellow band member Rob Lundquist said in a statement. "They do talk about the loss of that. The first time I heard it, I was like, 'This is a home run, man. You got really personal with this. It's very heartfelt.'"
Warmest Winter includes seven classic Christmas songs, along with five originals, co-written by either Austin or Tim Foust.
"It was extremely hard to narrow down songs because we have already recorded so many, and there are still so many to choose from," Rob Lundquist acknowledged to Everything Nash. "We all brainstormed for weeks to see what covers we wanted to do, all the while Tim Foust and Austin Brown doing writing sessions around Nashville, trying to come up with things for the record. I think every song that they presented we loved."
The all-vocal group planned on performing the song, along with others from the record, at their upcoming live show at the Ryman Auditorium on December 21, which has since been moved to 2021. Still, it remains unclear if Austin will ever be able to perform the song while keeping his emotions in check.
"I think he's going to have a hard time actually performing it, because it's so real," Rob previously told Taste of Country. "It comes from personal experiences, you know, with losing his grandma. So I think [singing Christmas music] just sometimes maybe allows us to get a little bit more emotional and show off some more vulnerable sides."
Home Free is scheduled to join the Oak Ridge Boys for their Christmas in Tennessee residency at Gaylord Opryland. Details on their upcoming Ryman show, which will also be livestreamed, can be found at Ryman.com.