HunterGirl had the opportunity of a lifetime last month, when Jimmie Allen invited her to perform her original song, "Red Bird," during his performance at CMA Fest. The "Down Home" singer performed on the popular Chevy Riverfront stage, allowing HunterGirl to share her music with thousands of his own fans.
The Season 20 American Idol runner-up first met Allen when he was a mentor for the show's Top 24, and has remained a fan of who he is as a person since then.
"He is one of the kindest people I have ever met in my entire life," HunterGirl boasts to Music Mayhem. "For him to let me get up there on stage during his set, he's just so supportive of artists and people. Jimmie is probably one of the best people I've ever met just inside and out. Just how he treats people and cares about people. Getting to have him there supporting me and letting me sing a song, not everybody would. I couldn't believe it."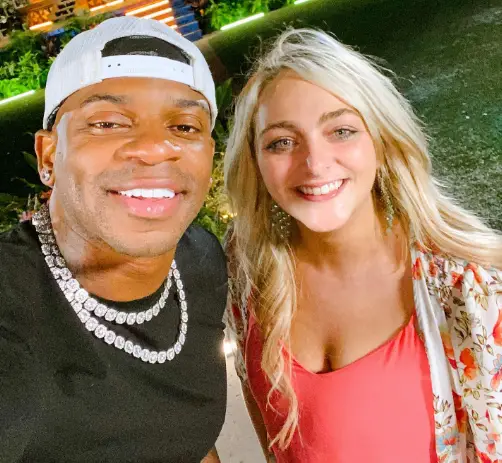 The performance during Allen's set was made even sweeter because HunterGirl's parents were in the crowd, watching their daughter's CMA Fest debut.
"I remember how many times they had taken me to shows, and I was like 15," the rising star recalls. "And then just watching me and supporting me throughout all of this, having that moment just to look at them and to say, 'I can't believe I'm here right now.' My heart was so big, it was gonna come out of my chest. So that was probably my favorite moment of the whole week."
While HunterGirl wasn't crowned the American Idol winner, with that award going to Noah Thompson instead, the Tennessee native is still stunned at how well she did on the reality TV talent show. Although she alwasy dreamed of being a singer, she never imagined her career would get a major boost by appearing on Idol.
"Whenever I was a little girl, I knew I wanted to sing," HunterGirl said on Live with Ryan and Kelly. "I sing all the time, grew up singing in my grandpa's church. But I always wanted to do this and so I was trying to do whatever I had to – working hard to make it happen."
HunterGirl released "Red Bird" while still on American Idol. The song is personal to her, referencing something her mother used to tell her when she was still a child.
"Red birds have been a big sign in my life since I was a little girl," HunterGirl previously said of the song, which she wrote with Austin Goodloe and Matt McKinney. "There is a saying that states, 'When a cardinal appears around you, it is one of your family members in Heaven coming down to visit you.' My mom also told me when I was younger that if I made a wish on a red bird, when it flies my wish will come true."
Thompson also performed with Allen during CMA Fest as well. Find all of HunterGirl's music and tour dates here.
Photo Credits: Courtesy of American Idol and HunterGirl/Facebook