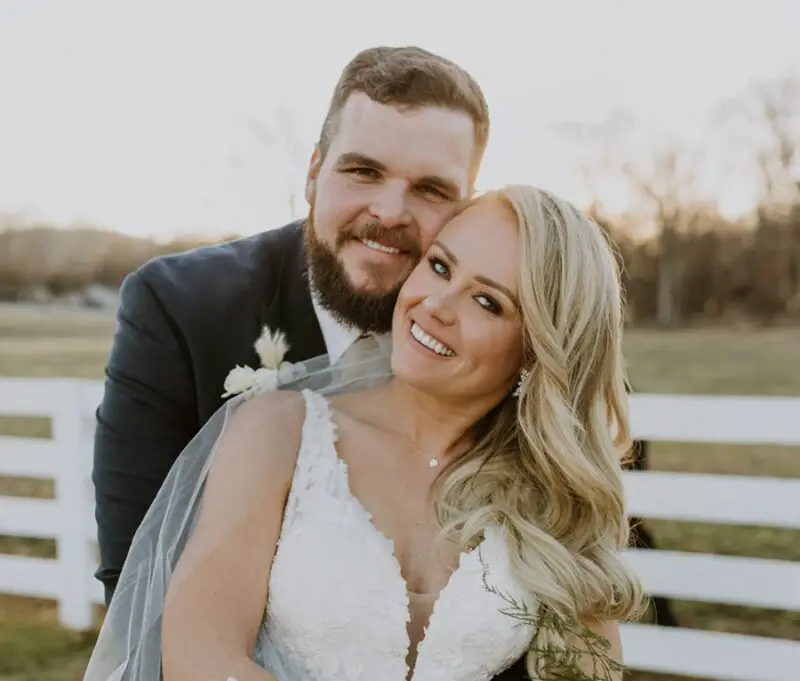 Happy anniversary to Jake Hoot and his wife, Brittney! The couple said "I do" one year ago, on March 7, 2021, in a beautiful, intimate ceremony just outside of Nashville.
"It is amazing," Hoot gushes to Everything Nash about married life. "I love it. I always tell everybody being a dad is the best feeling in the world, but being married, it probably edges it out just a little bit. It's amazing. She's great. We're loving it."
Fortunately, Hoot's daughter, Macy, loves having Brittney as part of the family as much as Hoot does. Although Brittney doesn't have any children of her own, she quickly took to the role of being a stepmom to Macy.
"I think as a single parent, that was one of the most nerve-wracking things, to date anybody and to bring anybody in close, for fear that there's clash or there's weirdness. But the first day that they met, Macy literally asked her if she would move in with us and be best friends forever, and then told me I could be their live-in butler. So I knew then it was gonna be a good match. And they're like two peas in a pod. They're best friends. I couldn't have asked for it to go any better than what it did."
Hoot and Brittney currently have their first single out together with "Wherever Time Goes." The Season 17 winner of The Voice wrote the song with Houston Phillips and Michael Farren, inspired by both Britteny and Macy.
"It came from a sense of, all three of us are parents and married, and we were all talking about just how fast time continues to go as you get older," Hoot tells Everything Nash. "You're gonna spend that time somewhere, whether it's on your phone, whether it's on the computer, whether it's a video game system, whether it's out fishing. And as it goes quicker and quicker, I feel like it gets more and more precious because it just does seem like there's not as much of it. And so, we talked about that special person being where that time went as you go along."
Hoot wasn't sure how he and Brittney would celebrate their first anniversary, but he promised it would be something she would never forget.
"I'm going to go all out," Hoot hints. "I haven't decided yet what we're doing, but it's gonna be good."
Find "Wherever Time Goes" and all of Hoot's music, as well as a list of his upcoming shows, by visiting his website.
Photo Credit: Courtesy of C2 Media Relations / Jonathan Volk