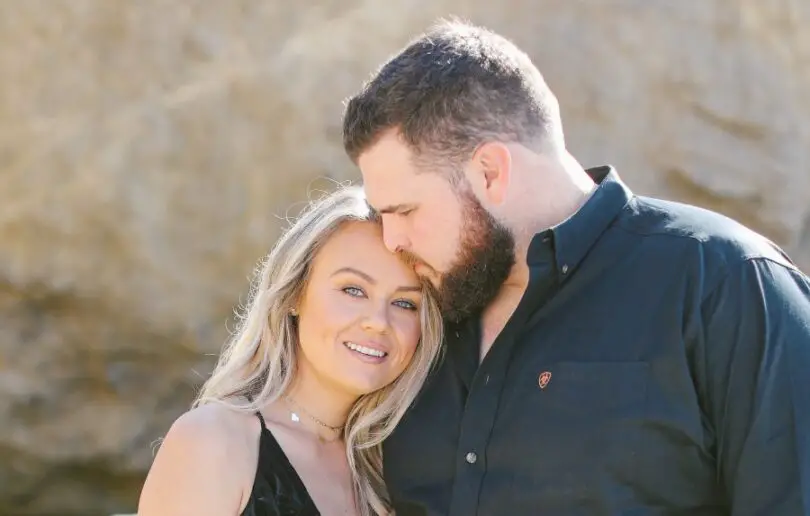 Jake Hoot tied the knot with his now-wife, Brittney (formerly Hoyt) earlier this year, and now the couple is sharing their gorgeous wedding video. The Season 17 winner of The Voice posted the video on social media, allowing fans to join them in celebrating their marriage.
"Jake, I have loved you my whole life," Brittney said in her vows. "I loved you before I ever even knew you. I would pray for you every day, and pray that you would be a man after God's heart. That you would have a heart for missions, for the poor. That you would always be a man of deep humility and vast influence."
"Before we started dating, I came to a show and you hugged me, and I remember thinking, 'I belong in his arms. He is not supposed to let go of me,'" she later continued. "And in my spirit, I knew that God was about to write a story much bigger than my understanding … My feelings continued to grow for you when you came to Nicaragua with me, and by the end of that trip, I knew that you were the man that God had made for me."
"To the girl who changed my world," Hoot said as part of his vows. "To the light that dragged me out of the valley I was in. To the woman who has championed me and encouraged me and showed me that I can be loved for being me. To the mom by choice, who stepped in and loved a little girl like she was her own … I will always protect you. I will always provide for you. I will always give everything of myself to you, no matter the circumstances."
Watch the entire video here.
Hoot previously spoke to Everything Nash about his relationship with Brittney.
"We have known each other for almost eight years now," Hoot said. "Both of our best friends, her best friend and my best friend, got married. She was living in California at the time … I was going to college here in Tennessee and we were sending soundbites back and forth to rehearse this song for their first dance. We met at the rehearsal dinner, rehearsed it once or twice, sang it and then went our separate ways, and didn't talk to each other for another six years."
"On a missions trip a couple of years ago, we reconnected and became friends," he added. "I was interested, and tried to pursue her, but it just wasn't the right time. I was just coming out of a dark season in my life. Then she moved to Nashville because her family lived here, and we reconnected again."
Hoot currently has a hit single at radio with, "I Would've Loved You," a duet with Kelly Clarkson. The song is from his debut Love Out of Time EP.
Read 11 Questions With Jake Hoot here.