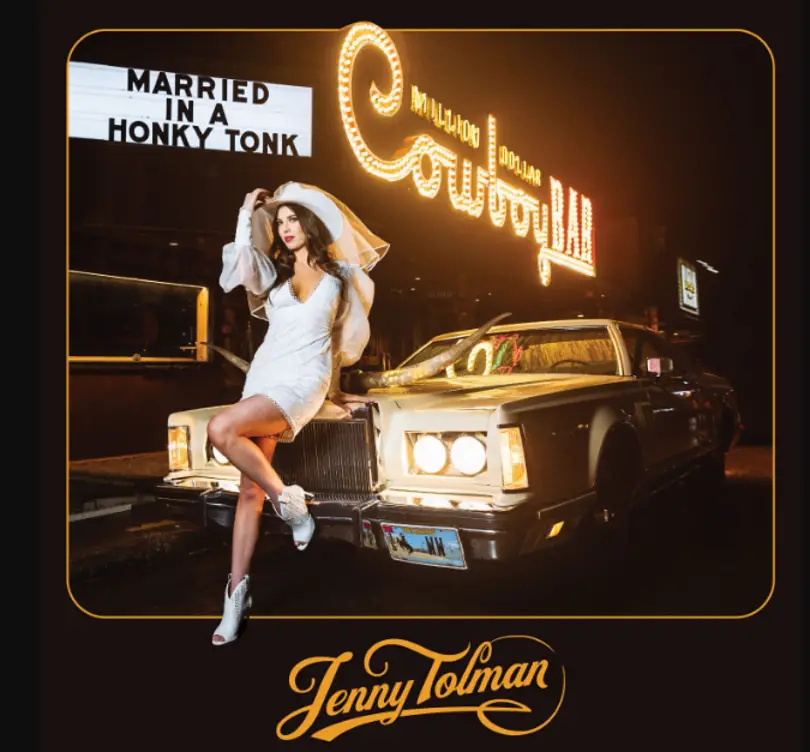 If Jenny Tolman is anything, she is diverse. After the release of her debut There Goes the Neighborhood album in 2019, introducing fans to a fictitious town of Jennyville, the rising star has a new album out, Married in a Honky Tonk. Her sophomore record is both a continuation of the Jennyville theme, along with more personal and autobiographical songs about Tolman's life and career, including her upcoming marriage to producer Dave Brainard.
"I like to say that it is like 50 percent Jennyville and 50 percent real-life Jenny Toman," the singer tells Everything Nash. "My first album called There Goes the Neighborhood, it was based on this imaginary world called Jennyville, and had all these crazy characters running around, and lots of storytelling and character songs, which I love to do as a performer, and role play. It still has all of those elements to it, but I kind of start bringing in a little bit more of my real life, and more self-expressions than necessarily the overload of characters.
"It's a nice equal balance, which is cool for me because I'm about to get married," she continues. "So Married in a Honky Tonk, it's kind of a foreshadowing of what's going on in my life, but also just a lot of really cool perspectives, where I feel like you can hear the maturing process and that I'm growing up, and I'm turning into a real woman. I'm getting married and all those things."
Tolman's career was at a steady incline after the release of There Goes the Neighborhood, with concert dates planned out months in advance, when the pandemic made everything come to a screeching halt. It was that unexpected, and unwanted, time at home and away from her fans that became the inspiration for Married in a Honky Tonk.
"We had about six really good months of release, and had such a good time," Tolman reflects, "I had a great touring, and a great response from everyone, and we had all this momentum going and then … we definitely got two years stolen from us. But I feel like after 2020, and we were going into 2021 still with the life of 2020, I'm like, 'Okay, well we gotta do something here. Not doing anything is not gonna work for me.' So that's when we really dug in. We were like, 'Okay, we're gonna make this record, and even if we have to start from the ground up again and build all that momentum back, we're gonna do it.'"
Tolman's music might be unconventional, but she insists she would rather be uniquely herself than conform to boundary lines that don't work for her, even if she sometimes feels the pangs of nervousness.
"When I first put out 'Afraid' a few weeks ago as the single leading up to this album, that one was probably more scary to me," Tolman concedes. "That one was the solo write, and that one was probably one of the most intimate songs I've ever shared, of those really true raw feelings of being in love with someone. And I feel like since I did that, I'm like, 'Okay, I can do anything now.  I'm brave now.' I'm just really excited to share this music with everyone, because I feel like people who were fans before are not gonna be disappointed, because they still get everything that they loved from There Goes the Neighborhood. But I'm also introducing kind of this new sector of my personality and my life."
Tolman, who will soon tie the knot with Brainard, is also looking forward to getting back on the road again, especially with this new music.
"This whole album is kind of geared towards live shows, and how much fun we have on the road," Tolman says. "So you'll definitely hear a lot of that too. I'm just excited to see what song hits people the hardest, because everybody always has their different ways of hearing things. That's my favorite part, hearing people's responses and which one is their favorite and why."
Find all of Tolman's music and tour dates at JennyTolman.com.