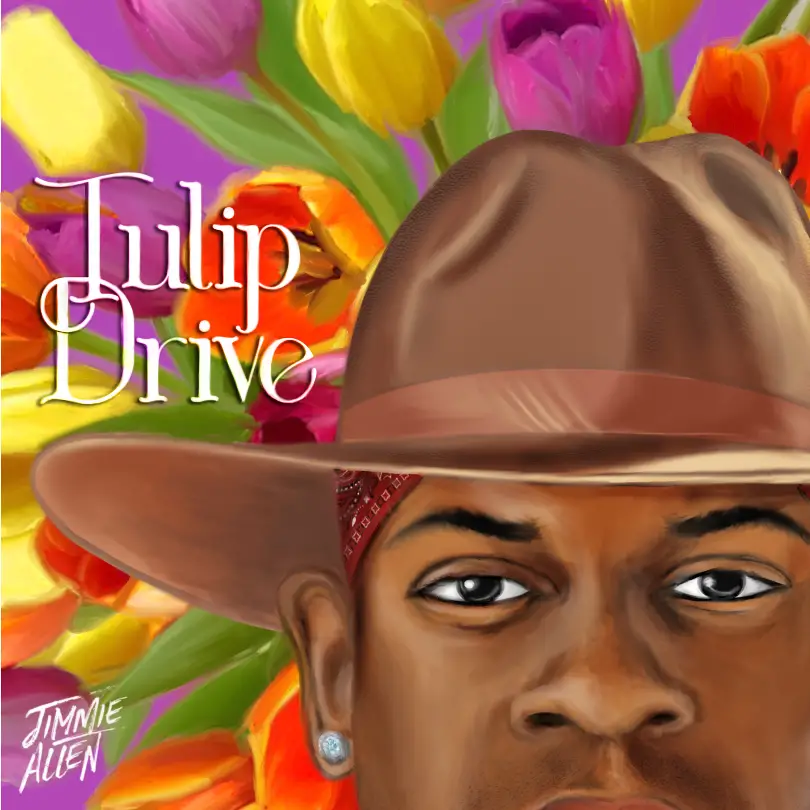 Jimmie Allen's deeply-personal Tulip Drive album is out. The father of three chose to tell his own stories in his ambitious, 17-track new record, including on a song called "Habits & Hearts." Although the song wasn't written by Allen (it was written by Steven McMorran, Derrick Southerland and Jess Cates instead), the song took Allen back to his father's struggle with substance abuse, and the impact it had n his family.
"Just hearing the song and remembering him wanting to get better and then falling short a few times — I felt like I was in a time and place to sing it now and be honest with it," Allen recalls to Billboard. "Because even though my dad had his issues, he always reminded me that I shouldn't do it. He said, 'I'm telling you, this can cripple you.'"
Substance abuse issues aside, Allen's father James "Big Jim" Allen remained a constant hero of the country music singer, until he passed away in 2018. Allen honors him with the video for "Down Home," out now, which was shot in Allen's hometown of Milton, reliving some of his father's favorite places along the way.
"Being able to shoot the video in the same place that I created so many memories with my father was super special," Allen says. "It felt like my father was with me every step of the way."
"Tulip Drive" might be an insightful and retrospective look at the highs and lows of Allen's own life, but he also reaches new territory in a bold way, with his "On My Way" duet with Jennifer Lopez. He also features both Cee Lo Green and T-Pain on "Pesos." For a former homeless singer, who lived on nothing but determination while sleeping in his car, the Dancing With the Stars performer is refreshingly not surprised at how well his career is going right now.
"Everything I accomplish, it doesn't surprise me. I'm thankful for the opportunity, but I'm not surprised at all," Allen says. "It's all part of this plan that has been written down."
See a track list for Tulip Drive below. Allen will headline plenty of his own shows this summer, before he serves as the opening act for Carrie Underwood, on her The Denim and Rhinestones Tour, which kicks off in October. Find music and tour dates at JimmieAllenMusic.com.
Tulip Drive Tracklist:
be alright (Jimmie Allen, Jason Evigan, Gian Stone, Castle)
what i'm talkin bout (Zach Abend, Michael Hardy, Seth Ennis)
kissin you (Jimmie Allen, Ashley Gorley, Zach Crowell)
down home (Jimmie Allen, Rian Ball, Cameron Bedell, Tate Howell)
settle on back (Jimmie Allen, Tate Howell, Trip Howell, David Pramik)
pesos (feat. CeeLo Green & T-Pain) (Jimmie Allen, Edward Martin, Vincent Venditto, T-Pain, Thomas Callaway, Yannique DeLisle Barker, Chris Doyle, J. "Lonny" Bereal)
love in the living room (Jimmie Allen, Jesse Frasure, Brandon Day, Alysa Vanderheym, Cary Barlowe)
on my way (Jimmie Allen & Jennifer Lopez) (Ivy Adara, Leroy Clampitt, Michael Pollack)
broken hearted (feat. Katie Ohh) (Jimmie Allen, Ashley Gorley, Will Weatherly)
habits & hearts (Steven McMorran, Derrick Southerland, Jess Cates)
right now (Jimmie Allen, Matt Rogers, Jordan Schmidt)
wouldn't feel like summer (Alysa Vandereheym, Matthew McGinn, Jimmie Deeghan)
undo (Matt Rogers, Matt McVaney, Daniel Breland)
get you a girl (Jimmie Allen, Justin Ebach, Matt Jenkins)
keep em coming (Jimmie Allen, Brad Tursi, Will Weatherly)
every time i say amen (Travis Hill, Jon Nite, Ross Copperman)
you won't be alone (feat. Aadyn) (Jimmie Allen, Justin Ebach)