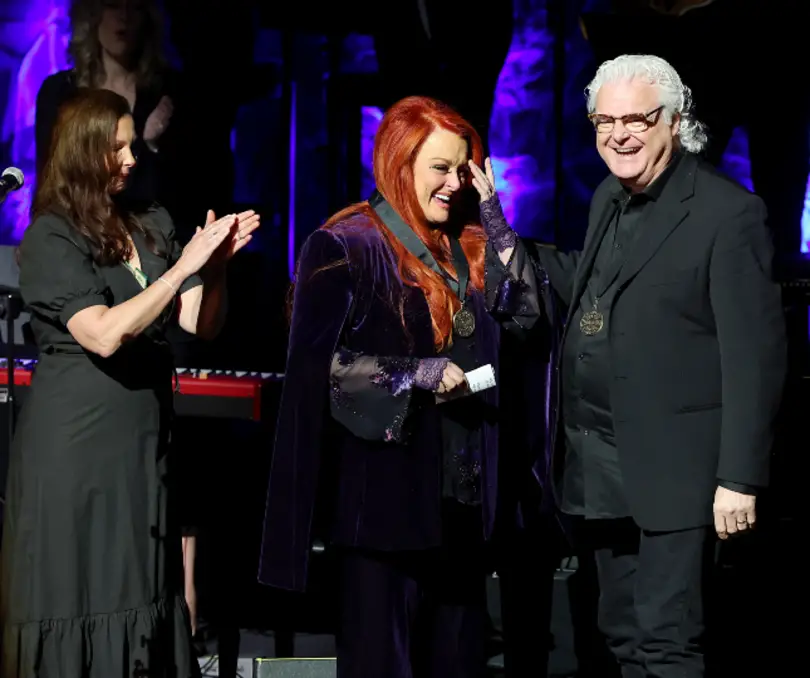 What was supposed to be a joyous honor for Ricky Skaggs turned into one of the hardest jobs he has ever done, when he inducted The Judds into the Country Music Hall of Fame on May 1, one day after Naomi Judd passed away. Skaggs was so honored to be invited to be the one to induct the award-winning duo, unable to predict how tragically the event would unfold.
"It was a hard day," Skaggs admits to AL.com. "A lot of people thought, 'Man, why would they even want to do this, with their mom passing just the day before?' I know Wynonna well enough, that as painful as it was, it would be more painful to wait until the October induction ceremony. To wait and live with this and then pull that band-aid off and rip the scab off again, it just didn't make sense to them. They wanted to go ahead and get the healing process started. And I don't blame them."
Skaggs, who effortlessly guided their part of the ceremony much like a father or a pastor, credits his own faith with helping accomplish the heart-wrenching task.
"As hard as it was, there was a lot of joy there," Skaggs concedes. "And just seeing the girls be able to honor their mom … People ask me all the time, ever since that happened, 'How'd you get through it?' And I say, 'Look, I had a lot of help.' God gives peace in situations where there's pain and suffering and sorrow. God always gives peace to those that trust Him and those that believe in Him."
The 67-year-old wanted to honor, in the ceremony and even now, the rich legacy Naomi Judd imparted onto country music, even if that legacy was cut short.
"There was a lot about Naomi's past that was full of fun and joy, and we celebrated those things," says Skaggs. "We also know the mental health issues that she struggled with, and a lot of emotional roller coasters in her life. And I'm sorry that had to happen that way for her. But I think she was just glad to stop the pain. Who knows exactly what she was thinking? But we got through it with a lot of joy, and everybody was very tender toward them, and very loving. That's what's great about the country music community and the bluegrass community."
Skaggs is currently on tour with his Kentucky Thunder band. Find tour dates here.
Photo Credit: Jason Kempin and Terry Wyatt/Getty Images for the Country Music Hall of Fame and Museum)