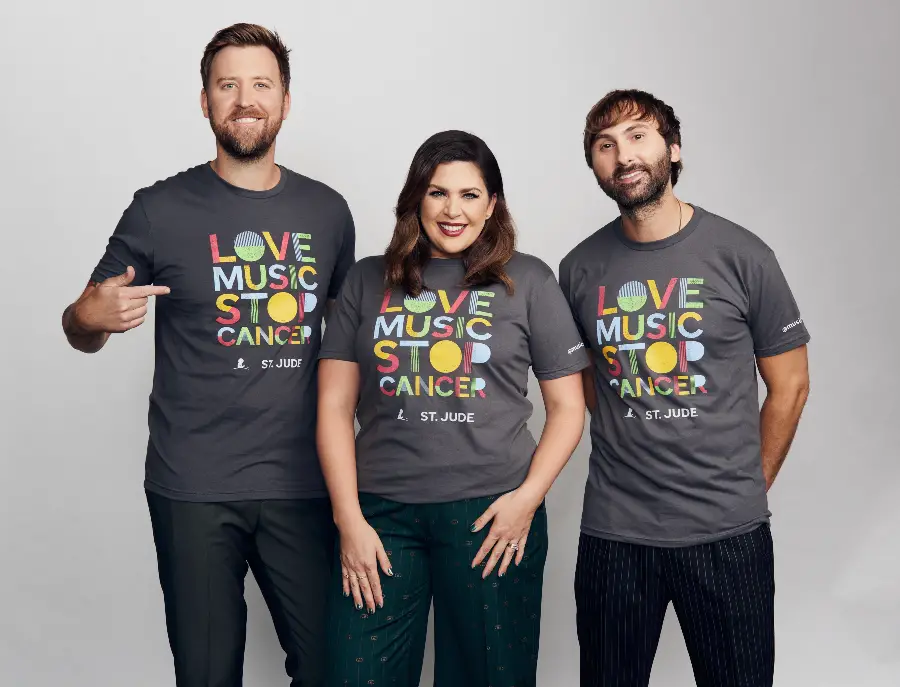 Several country artists, including Lady A and Jason Aldean, are joining forces with St. Jude Children's Research Hospital, for their new Love Music. Stop Cancer. campaign, to raise money and awareness for the incredible work of St. Jude. More than 40 country artists have donned the new t-shirt, and will encourage their fans to commit to monthly pledges, as a St. Jude Partner in Hope.
St. Jude offers completely free treatment for children battling cancer and other severe illnesses, along with covering living expenses of family's with a child being treated at the hospital. It's a cause several country artists have been passionate about for years.
"The incredible work being done at St. Jude really made an impact on me when I had a chance to visit and hear the patients' stories," Darius Rucker said, explaining why he continues to host his Darius and Friends concert year after year, benefiting St. Jude. "They are some of the bravest people I've ever met and being able to support them with this event is always a highlight of my year. I'm so glad we'll be back to performing in front of a full house at the Ryman for such a great cause!"
Russell Dickerson expected his first St. Jude visit to be somber and serious, and was blown away by the positive, uplifting environment.
"It was full of joy, it was full of hope, it was full of excitement for life," Dickerson recalled. "I'm covered in chills now just reminiscing this time of when we walked in there. These families and these kids are grateful for this day only. They're grateful for right here, right now. That is just what knocked me off my feet, was this joy, this gratitude for today.
"We had a craft session," he added. "We made hats and we decorated and we glued and glittered. They were just so happy to be in that moment."
Florida Georgia Line was last year's recipient of the Randy Owen Angels Among Us Award, given to artists and celebrities who use their time and resources to support St. Jude, through the Country Cares program.
"There is truly no place like St. Jude," Tyler Hubbard said of the honor. "Whenever we visit, we are continually inspired by the kids' strength and their amazing stories of bravery. Giving back is in our hearts and to be presented this award is an absolute honor."
"Music is healing and we love being able to help in any way we can to further the mission of St. Jude," added Brian Kelley. "And, for this award to be named after Randy Owen – who has always been one of our influences – that's pretty incredible."
Other artists participating in the Love Music. Stop Cancer. campaign include Carly Pearce, Carrie Underwood, Scotty McCreery, Maren Morris, Michael Ray and more. To find more about St. Jude, or to make a donation, visit StJude.org.