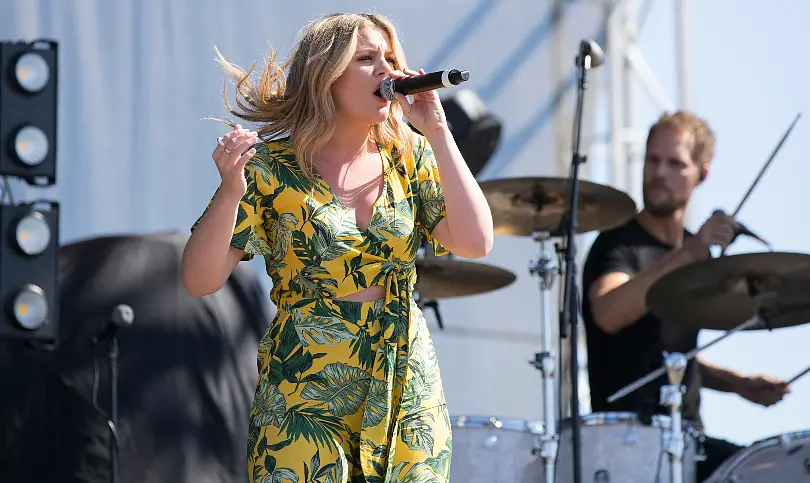 Lauren Alaina announces that she has left her longtime record label, Mercury Records, part of UMG Nashville. Alaina has been with Mercury Records since her debut Wildflower album was released in 2011, shortly after she was the runner-up on Season 10 of American Idol. She later released Road Less Traveled in 2017, followed by her latest Sitting Pretty on Top of the World in 2021, as well as three EPs: Lauren Alaina in 2015, and both Getting Good and Getting Over Him in 2020.
Alaina announced the news on social media.
"I want to thank the staff at Mercury Records and UMG Nashville for everything they have done for me over the last 11 years," Alaina wrote. "They have been my label home since the day I walked off the American Idol stage as a really young, wide-eyed, eager 16-year-old kid. Now, at 27 years old I look back and see just how much I have changed and grown into the woman I am now."
"I have made the tough decision to spread my wings and close a very important chapter of my life," she continued. "There are more exciting things happening in my career right now than ever before, and I just can't wait to see where it all leads. More to share soon. With gratitude and hope, Lauren."
— Lauren Alaina (@Lauren_Alaina) April 4, 2022
Alaina saw a childhood dream fulfilled in February, when she was inducted into the Grand Ole Opry, by her close friend, Trisha Yearwood,
"Since I was a little girl I dreamed of this moment," Alaina said from the stage during her formal induction. "My family's very musical. My dad grew up playing the banjo, and he dreamed of playing the Grand Ole Opry. Both of my parents raised me with a huge appreciation for country music and all that it is, and all of the people  … who have come before me. I just want to say that I promise to do everything I can to represent country music. I heard today that I am now the youngest living member of the Grand Ole Opry. That's pretty cool.
"I promise to represent this family well," she continued. "I have felt like a family here as long as I remember … Everyone at the Opry has always made me feel like family, so for me to finally be officially in is the biggest dream come true of all time. Most little girls dreamed of their wedding; I dreamed of this. So hopefully now I can have a wedding, and we'll be set. God bless you guys and God bless country music."
Alaina is currently starring in the reality TV show, Beyond the Edge, with Craig Morgan, Paulina Porizkova, Ray Lewis, Colton Underwood,  Jodie Sweetin. Metta World Peace, Eboni K. Williams and Mike Singletary. Each of the contestants are raising money for a charity of their choice, with Alaina competing for The Next Door.
The singer will return to the  American Idol stage on May 2, as part of their The Great Idol Reunion, where she will perform with Scotty McCreery
Alaina's book, Getting Good at Being You: Learning to Love Who God Made You to Be, is out now, Keep track of music and tour updates at LaurenAlainaOfficial.com.