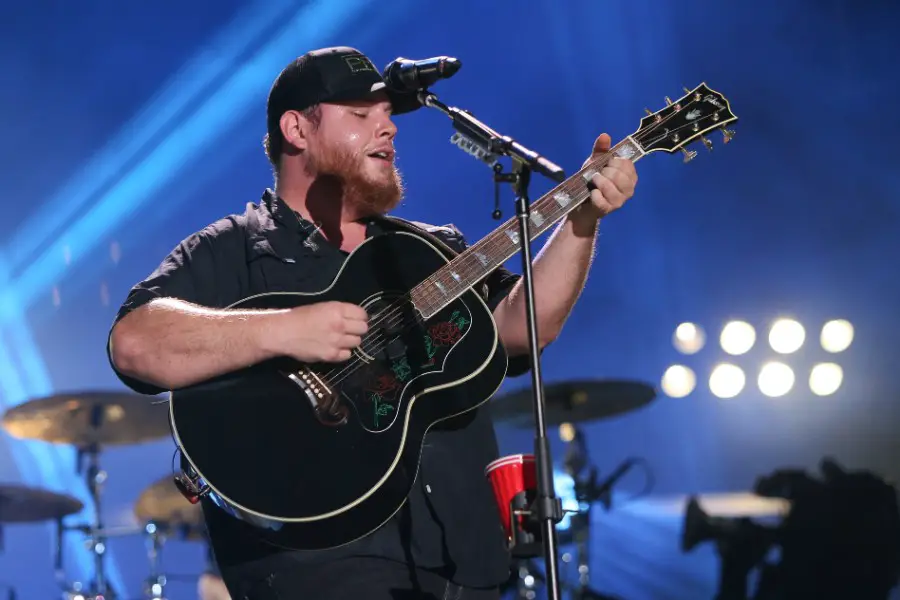 Luke Combs is on a roll, and a pretty big one. The North Carolina native has had plenty of No. 1 hits, including "Forever After All" and "Cold As You," and is making a quick ascend to the top of the charts again with "Doin' This." He was named the CMA Entertainer of the Year in 2021, and is nominated in the same category at the upcoming ACM Awards. He also happens to be on the way to being a first-time father this spring.
Just when we think Combs' star can't get any bigger, he proves us wrong. Keep reading to find out 11 things to know about one of country music's biggest hitmakers.
1. He studied Criminal Justice in college.
Combs attended Appalachian State University for five years, but left before completing his degree in Criminal Justice.
"I wanted to be a homicide detective, which is actually what I wanted to do," Combs said on Jimmy Kimmel Live. "People are pretty surprised by that a lot of times. But if you've noticed, I don't actually have the physical build of a police officer necessarily."
2. He is an only child.
Combs is the only child of his parents, Rhonda and Chester Combs, so the pressure was on him to make sure he succeeded at whatever he tried.
"My parents have been nothing but supportive my entire life," Combs told Taste of Country. "I am so lucky to have that. They are great people. I'm an only child so there is no other kid. There was no other kid to be a doctor or something like that. It's cool to be able to have your parents be proud of you now."
3. He doesn't keep his trophies on display where everyone can see them.
Combs has won numerous awards throughout his career, but they aren't displayed throughout his house where everyone can see them.
"I have a room in my house where I write songs, my writing room," Combs said backstage at the 2019 CMA Awards, sharing where he keeps all of his trophies. "I haven't written too many songs there yet. I've been living there for about a year and I don't have anything hanging in my house, anywhere that guests would be, or in our bedroom. That's me. I always wanted our house to be about me and [Nicole], about our life together, not about my career."
4. He battles OCD and anxiety.
Combs has been open about his battles with OCD and anxiety, which is something he has dealt with for much of his life.
"It's something I've always struggled with, always affected me, " Combs shared on The Big Interview With Dan Rather. "First time I can remember was probably middle school, up to kind of the end of college. I still have my moments here and there, but it's something that I've learned about, and it's something I've been able to get a hold of. It's been great to have felt free from those things for a long time."
5. All of his singles have gone all the way to No. 1.
Combs' debut single, "Hurricane," flew straight to No. 1, and became a multi-platinum hit as well. He had no idea that his first introduction to country music would kick off an unprecedented career in country music, but it did. Not only did all subsequent singles land at the top of the charts, at least so far, but they've all landed at least in the Top 40 on Billboard's all-genre Top 100 as well.
6. He is an artist thanks to Eric Church.
If Combs had never heard of Eric Church, there's a good, good chance he wouldn't even be an artist today, since it was Church who became one of the biggest influences in Combs' life and career.
"A guy who lived on my floor [in college] brought in an Eric Church CD and he said, 'This guy went to college here. You should check him out,'" Combs said in an episode of Straight Up Steve Austin (via People). "Once I heard Eric, I was like, this is something I can relate to and if he can do that and he's from here, I can do that. That's where the fire caught spark."
7. Thanks to a lost football bet, he had to eat vegan food for three months.
Combs and his keyboard player, Neil Tankersley, made a friendly football bet in early 2020, when Combs' favorite team, the Carolina Panthers, was playing Tankersley's team, the Atlanta Falcons. If Combs' team lost, he had to go vegan for three months, and unfortunately for Combs, his team let him down.
"I eat a lot of bars like protein bars, a lot of veggies," Combs told his record label at the time. "And, if you're not familiar with vegan, it's no animal products whatsoever: no meat, no cheese, no milk, no butter, no anything good. So I've still got about 70 or 80 odds days left, which is pretty depressing to think about. But, I will prevail through the end of this. I'm looking forward to a good deer steak after this is all said and done."
8. He likes to drink Miller Lite.
While Combs could certainly afford to buy any beer he wanted, his favorite is still Miller Lite. In fact, he likes Miller Lite so much, he had a cake made to look like a beer can for his wedding, which Nicole shared on social media.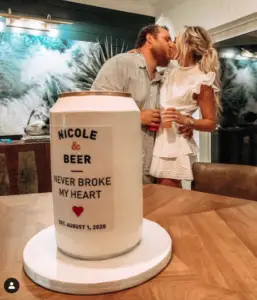 9. He met his wife, Nicole, at a songwriting retreat in Florida.
Long before many people knew who he was, the two both attended a songwriting retreat in Florida, and it didn't take long for sparks to fly.
"We were both single. I was leaving a songwriters' round and he was walking up late to it, and he was by himself. I was like, 'Come hang out with us,'" Nicole recalled on the Couple Things podcast.
"I looked bad, too," he added. "I was wearing camo gym shorts from Walmart. Classy stuff. And the oldest t-shirt that I owned, probably."
10. HIs favorite cereal is Apple Jacks.
In an interview with Radio.com, Combs admitted that he liked all cereal, but if he had to pick one favorite, it would probably be Apple Jacks.
11. His least favorite job ever was working at U-Haul.
In the same interview with Radio.com, Combs also said that, while he hated all of his jobs prior to becoming an artist, his job at U-Haul was his least favorite — understandably, since he was paid to wash trucks.