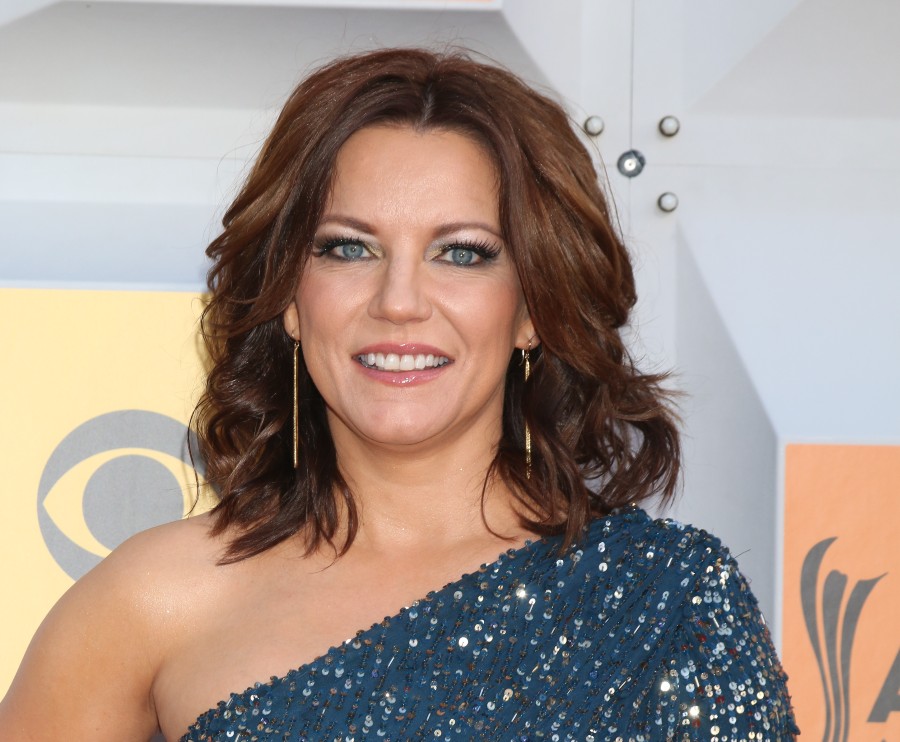 Martina McBride turns 56 on July 29. The Kansas native has already achieved more than most other artists, male or female, in country music. We are taking a deeper look at the extraordinary life and career of the powerful singer.
1. She is from a very, very small town in Kansas.
McBride was born in Sharon, Kansas, which, according to a 2020 census, boasts a population of 147. Although Sharon doesn't offer much by way of activities or amenities, there is a Martina McBride Park named in her honor in the tiny town.
2. She comes from a long line of musicians.
McBride grew up surrounded by music. He parents loved country music, which is how McBride fell in love with it as well. McBride's father, Daryl Schiff, was a dairy farmer who moonlighted as the lead singer of a band, The Schiffers. As a child, McBride often joined her dad in his performances
3. Her first music job was in a rock band.
McBride loved country music, but her first musical gig on her own was as the lead singer of a rock band, The Penetrators. McBride later admitted that she had no idea that the band's moniker wasn't entirely squeaky-clean.
"I was 17 when I joined the band," she recalled to Taste of Country. "I thought, 'We're the Penetrators. Yeah, we'll penetrate you with our music!' I had no idea. No idea."
4. It was through another band that McBride met her husband, John.
McBride formed another group, Lotus, and needed rehearsal space, so she reached out to John McBride, a studio engineer, and the rest is history. The couple wed in 1988, and their relationship remains just as strong.
"When people ask me the secret to staying married, the most obvious answer is that I chose well. Or got lucky, depending on how you look at it," McBride previously (via Southern Living). "I married a man who is a great partner. He is thoughtful, kind, considerate, romantic, handsome and really funny. We love each other's company, our personalities complement each other, and we respect each other. He thinks I'm smart and funny, and I think the same about him. We are a great team."
5. Her proudest accomplishment is her three daughters, Delaney, Emma and Ava.
McBride's oldest two daughters Delaney and Emma are out of the house and on their own, but Ava, still a teenager, remains at home. Although none of the daughters have followed their mother into singing, at least so far, she does remain close to all three girls, in spite of not always being together anymore.
"I just think communication is really important. We spend a lot of time together," McBride told CMT. "I have always told them to be a leader and not a follower, and to never lie to me," she added. "So, I scared them basically."
6. She used to sell merchandise for Garth Brooks when he was on the road.
After the McBrides moved to Nashville, John got a job working on the road with Garth Brooks, with McBride sometimes joining him to sell merchandise. Brooks promised McBride that if she ever got a record deal, he would take her on tour with him as his opening act, a promise he kept, even though he had never heard her sing.
"I was scared to death what was going to happen when she opened her mouth," Brooks recalled to CMT. But as soon as he heard McBride sing, he thought, "Yeah, I'm a genius."
7. She was inducted into the Grand Ole Opry by Loretta Lynn.
In 1995, with three studio albums and a handful of hits released, including "My Baby Loves Me" and "Independence Day," McBride was inducted into the Grand Ole Opry, by her good friend and mentor, Loretta Lynn.
"It's one of the highest honors of my career, to be inducted into the Grand Ole Opry," McBride says. "I love when I see new artists coming out to the Opry because I think it's such an interesting combination of respecting our heritage and tradition with younger artists coming and performing, which brings new fans to the Opry. So it's a real give and take."
8. She has been a vocal proponent of having equal play for women in country music.
After a popular radio consultant, Keith Hill, made the infamous comment in 2015 that male artists like Luke Bryan and Blake Shelton were the "lettuce" of the salad, while female artists were the "tomatoes," McBride was among one of the first to cry foul.
"If fans truly want to hear more women on the radio, they're going to have to demand it because at the end of the day radio is supposed to play what fans want to hear," McBride told Rolling Stone.
9. She loves to cook and entertain.
Next to singing, cooking and entertaining might be at the top of her list of things she enjoys. McBride has released two cookbooks, Around the Table: Recipes and Inspiration for Gatherings Throughout the Year and Martina's Kitchen Mix: My Recipe Playlist for Real Life. She also had a show on Food Network, Martina's Table.
"For me [cooking is] just another way to be creative, and it's also, I would say, my love language," McBride told Nashville Lifestyles. "That's how I take care of people."
10. She has a regular meal at Waffle House.
McBride eats healthy almost all of the time, including a breakfast of eggs with tomato or avocado toast. But if she's going to splurge, it might be at Waffle House, where she definitely indulges. According to Delish, McBride's regular meal at Waffle House includes cheese eggs, raisin toast, and grits with lots of butter. Yum.
11. She has an exhibit at the Country Music Hall of Fame.
McBride's exhibit, Martina McBride: The Power of Her Voice opened at the Country Music Hall of Fame and Museum last year, and will remain open through August 7, 2022. For McBride, there isn't a higher honor that she could have received, than to have her life and career honored at the Country Music Hall of Fame.
"This is surreal and overwhelming," McBride said from stage at an event celebrating the exhibit. "I am beyond thrilled and honored to have my own exhibit in the Country Music Hall of Fame and Museum. It's very special. It's like when you're that little girl back in Kansas, I had big dreams, obviously. But there's some things you can't even dream about. You just don't have the capacity to even know, and this is one of those things, back when I was a young girl in Kansas. But it's happened, and it's so amazing, and I'm so touched and moved by it."