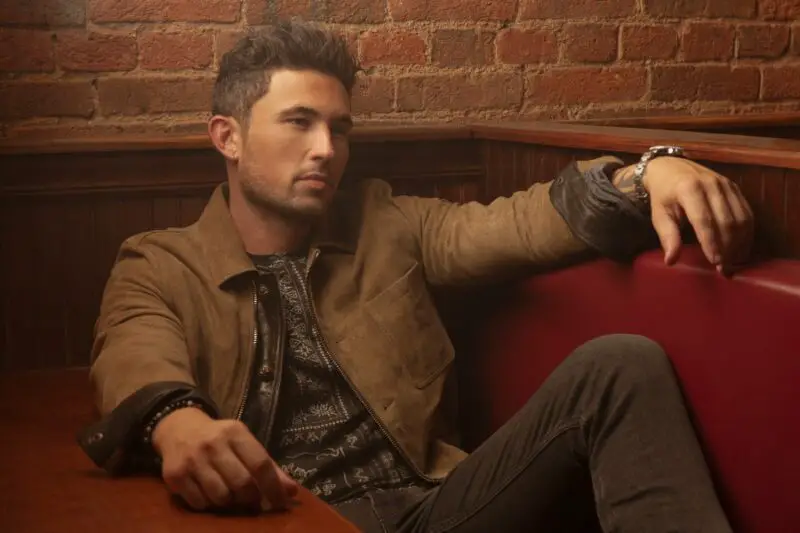 Michael Ray is feeling plenty of gratitude for his fans, after "Whiskey and Rain" became his fourth No. 1 hit. The song, from his Higher Education EP, is a nod to the '90s country music Ray loves, and hoped his fans would love as well. Fortunately, Ray's instincts were right, and the song, a departure from some of the music he had released in the past, shot to the top of the charts.
"I owe this one to the fans who love country music just as much as I do," Ray says. "I knew when I first heard this song, it embodied everything I love about country music, and I hoped people would find it as relatable and personal as I do.
"The support for 'Whiskey And Rain' has been so overwhelming and exciting," he continues, "I can't think of a better way to gear up for 2022 than this: celebrating with a song that's so special to me."
Ray shared an emotional video on social media, after learning he had the No. 1 country song.
"Y'all I gotta be real," Ray said in the video. "It's been an emotional one today. Back when we were recording this song I would think about all the things I always loved about [Gary Allan] and the way his music spoke to me and my life growing up in Eustis. I hope this song has been there for you on lonely nights when you've needed it, just like Gary always has been for me. One of my favorites of his goes, 'life ain't always beautiful… but it's a beautiful ride.' Thank y'all for this beautiful ride!!! Thank y'all for loving this song!!! We ain't slowing down!!!
The Florida native used his '90s country music influences to inspire both the sound and video for "Whiskey and Rain."
"It's what I've always had in my head," Ray told Everything Nash. "I guess I always knew that I wanted more of a traditional country sound. That's what I grew up on, what I listen to, to this day. And I just always felt like that was the record I wanted to make. It took this year, I guess, to really realize that on my own. So this song, it was just that catchy, hooky melody, that throwback to the Gary Allan. It sounds like Gary Allan, Dwight Yoakam — all of that. It just stood out. And really, we felt was a great way to introduce this new record and new sound."