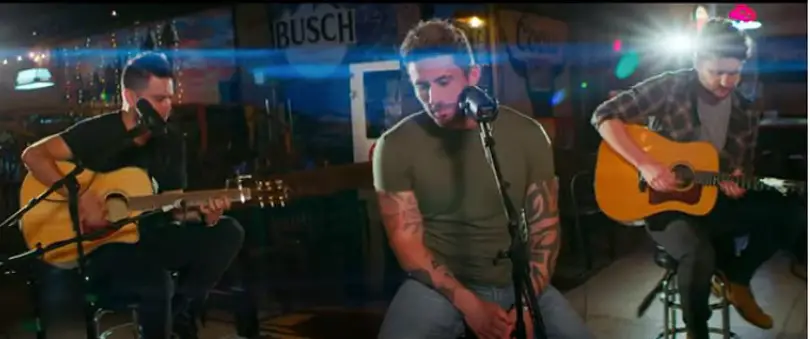 Michael Ray has made no secret of his love of traditional country music, which is clearly evident in Ray's recent cover of Merle Haggard's "Mama Tried." Ray performed the song as part of his weekly HonkyTonk Tuesday series.
Ray embraces his love of traditional country music, like Haggard's, in his latest Higher Education EP, out now. The record, which includes two songs written by Ray, is a celebration of the music Ray grew up on, and still enjoys today.
"It's what I've always had in my head," Ray told Everything Nash. "I guess I always knew that I wanted  more of a traditional country sound. That's what I grew up on, what I listen to, to this day. And I just always felt like that was the record I wanted to make. It took this year, I guess, to really realize that on my own."
Ray introduced his new sound with the EPs debut single, "Whiskey and Rain," a throwback to the music that influenced who Ray is today.
"It was just that catchy, hooky melody, that throwback to the Gary Allan. It sounds like Gary Allan, Dwight Yoakam — all of that," he explains. "It just stood out. And really, we felt was a great way to introduce this new record and new sound."
All seven songs on Higher Education are in many ways Ray's triumphant return to the music of Haggard and other artists he loves, with his own spin on their traditional sounds.
"It's truly what I was trying to get out for years," Ray reflects. "I think if I had to describe it, I would describe it as a touch of the '80s, '90s and early 2000's, mixed with today.  I hear influences from all over. I was raised in that middle ground of Southern rock and classic rock, classic country and '90s country, and you're going to hear a blend of that. It's like, if those two came together, and were on the same record."
Ray just dropped the video for the title track of his EP, which stars Tim Montana, Lee Brice, ZZ Top's Billy F. Gibbons, and Kid Rock.
"I've been friends with those guys for a while now, but through Tim," Ray tells Everything Nash. "Tim's like, 'Dude, we can get Billy on it for sure.' I was like, 'Are you kidding me? It's ZZ Top. That's my dad's favorite band, one of my favorite bands of all time. It's one of the biggest, most iconic bands in music.' Billy agreed to do it immediately.  We sent it to Kid Rock, and Kid fell in love with it, and he agreed to do it, and did it at his place. We were headed to Arkansas on Lee Brice's bus going duck hunting, and me and Tim played that song for him, and we were like, 'You gotta be on it too.' He agreed to be on it and threw his vocals on it."
Want to watch more exclusive artist interviews? Click HERE to subscribe to our YouTube channel.