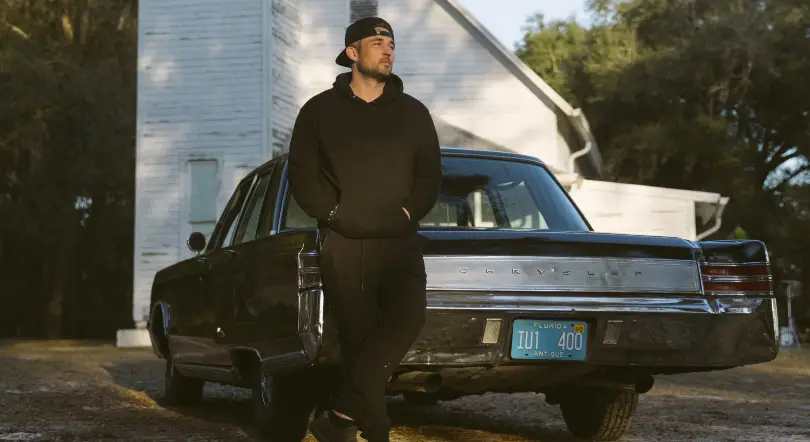 Michael Ray's "Holy Water" video is out! The song, from Ray's Higher Education EP, follows his recent multi-week, No. 1 hit, "Whiskey and Rain," Written by Ashley Gorley, Hunter Phelps, Ben Johnson and Michael Hardy, Ray had an idea for the music video from the first time he heard it — a vision that, fortunately, came to life even better than he could have envisioned.
"I felt like this whole song from day one, from the first time I heard it, I envisioned everything that's happening right now," Ray tells Everything Nash. "I feel like those story songs, that's what I fell in love with about country music, even as a kid. One of my favorite songs as a kid was "Green Green Grass of Home," which I didn't understand it at the time, what it was about. But it's a story song about a guy dreaming in a prison cell and wakes up to the guards. He's on death row, and he is about to be executed. And so these story songs, when you listen to them, you can close your eyes, and you can see a movie. I felt like I played all of this in my mind, hearing the song for the first time."
Spidey Smith directed the video for "Holy Water," who fortuitously had the same idea for the "Holy Water" video that Ray did.
"Before I even said anything, his vision was already kind of what I had in my mind already," Ray reveals. "It all just played out perfectly. We knew that we wanted to really, really lean into that movie and lean into the script of the song, 'cause the song's like a script when you read it. When you listen to it, you can see that movie. And we really wanted to stay in that vein of that, and just bring that to life."
Ray has a deeply personal connection to the "Holy Water" video, which was shot in Cassia, Florida, new Ray's hometown of Eustis. The church where Ray shot the video was also the church where Ray's entire family has attended, dating back to his great-grandparents.
"The church dates back to 1889," Ray says. "I remember seeing this photo … the years go by and your family misses and loses stuff. People pass. I wish we could find this photo, but there's a photo of my great-great-grandparents sitting on the pews in that same church where we shot that music video, in the same room, except at that time, the pews were, if I remember right, they were like a board, or like cinder blocks. It was just an old country church. They rode horses down there to it, at the end of this dirt road. So it dates back to family members years beyond me, all the way up to, my little niece, she goes there. That church really means a lot to me, and it means a lot to the community."
Ray not only used the church he grew up in as the setting for the video, but he also used his own friends and family members as actors in the "Holy Water" video as well.
"Everybody in that congregation is part of that church, or grew up going to that church or in my hometown or are family," Ray reveals. "The only people that are acting in that video are the preacher and one of the deacons. The other deacon is my cousin Lee. I threw him in there, 'cause he was the guy I used to always sit around the bonfire with when I was younger and play guitars with. So it was just cool to bring all of that to this little country church that gave me so much: Vacation Bible School, dinner on the grounds, all the stuff that you do at a Southern Baptist church. Being able to bring that to them was just a really cool, full-circle moment. And seeing that it hadn't changed since I was a kid was like a time stamp that we went back to."
Ray is spending much of the next few months on the raod. Find music and tour dates at MichaelRayMusic.com.
Photo Credit: Courtesy of EB Media / Tanner Yeager