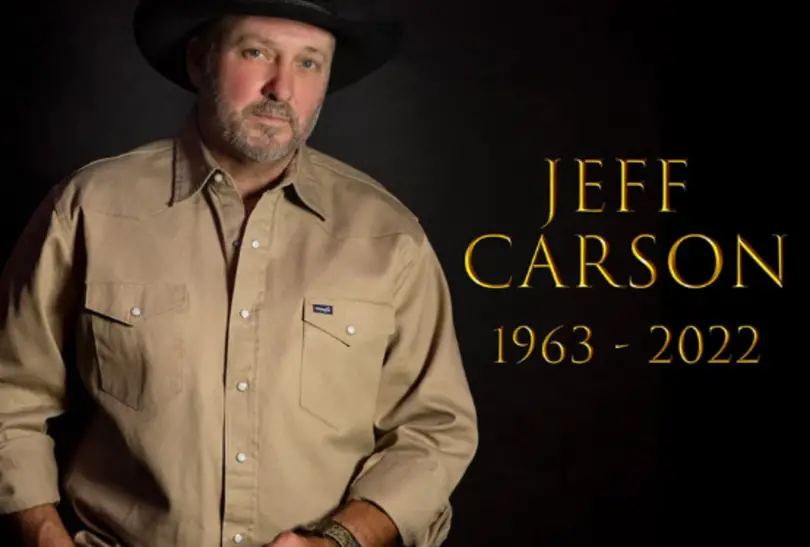 The country music community is mourning the loss of country singer turned police officer Jeff Carson, who passed away on March 26 after suffering a heart attack. The 58-year-old, who had hits like "The Car" and "Not On Your Love," was in the process of working on a new album, with artists like  Michael Ray, Darryl Worley, Mark Wills, and Craig Morgan.
"I've tried being ok and thinking you're in a better place but this doesn't seem real!" Ray says. "I hope you know getting to sing 'The Car' with you will always be one of my most cherished moments. I love you, man. Watch out for us brother, we're gonna need it!"
"The Oak Ridge Boys are saddened by the loss of Jeff Carson," the Oak Ridge Boys' Joe Bonsall says. "Yes, he had a bunch of charted singles but his heart belonged to the Franklin, TN Police department where he served as a law enforcement officer since 2009. We didn't know Jeff well but certainly admired him. Rest In Peace!"
"Kim and I are shocked today to hear of the passing of Jeff Carson," says Lee Greenwood. "What an awesome man and patriot! I will forever be thankful for his participation in my tribute concert a few months ago and was blown away by his talent. We are sending prayers to his family tonight. Jeff, thank you for serving our community of Franklin and for being a wonderful friend to so many including myself. Go rest high on the mountain my friend!"
"So saddened to hear of the passing of my friend Jeff Carson," says Bryan White. "He was a tremendous singer and one of the kindest people I've ever met. He also was a law enforcement officer who served his community bravely. He'll be missed dearly. I'll see you on the good side buddy.
"I admire Jeff Carson for not only his music as a country music artist, but his dedication to family, and serving his community as a law officer," adds Rhonda Vincent. "My love and prayers to his family."
Carson released three albums on Curb Records: his eponymous debut in 1995, followed by Butterfly Kisses in 1997 and Real Life in 2001. He won one Academy of Country Music Award, in 1996, for "The Car."