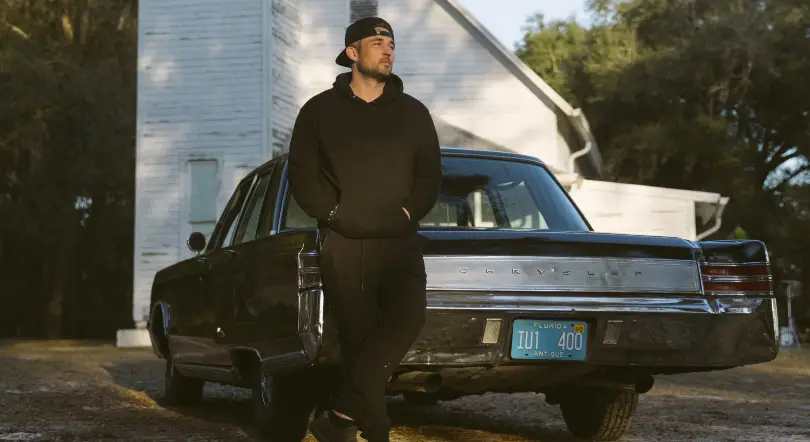 Michael Ray's "Holy Water" video is out. Shot at the church where his family has attended for generations, Ray used mostly his family and close friends, instead of hired actors, making the video one of the most personal ones he has ever released.
"I think my cousin might have already signed up for the Oscars … we've created the next Brad Pitt," Ray quips to Virginia Beach's The Eagle. "It meant a lot to me — we only hired two actors, the preacher and one of the deacons. Other than that, everybody in that video is family, friends, or they are involved in that church today, or they've been involved in that church in some capacity throughout the years."
It was important to Ray to not only honor his heritage, but the actual church as well, which holds so many of his fondest childhood memories.
"It meant a lot to me, because I remember being a kid in that church, Vacation Bible School, dinner on the grounds — so many memories in that church," Ray reflects. "And then to look around and see us bring these camera crews in and know that when my grandfather was a kid, he was sitting in these pews, but had no idea that years and years later, we'd be doing this, and really being able to show the world this beautiful church that no one would see, because it's at the end of a dirt road in Cassia, Florida. It was really cool for all of them to be a part of it, but also for me to see everybody enjoying this moment … It was a big celebration for us all."
The church where Ray shot his "Holy Water" video is more than 130 years old, which is why he felt compelled to use it in his "Holy Water" video.
"The church dates back to 1889," Ray tells Everything Nash. "I remember seeing this photo … the years go by and your family misses and loses stuff. People pass. I wish we could find this photo, but there's a photo of my great-great-grandparents sitting on the pews in that same church where we shot that music video, in the same room, except at that time, the pews were, if I remember right, they were like a board, or like cinder blocks. It was just an old country church. They rode horses down there to it, at the end of this dirt road. So it dates back to family members years beyond me, all the way up to, my little niece, she goes there. That church really means a lot to me, and it means a lot to the community."
"Holy Water" is from Ray's latest Higher Education EP,  Find music and tour dates at MichaelRayMusic.com.