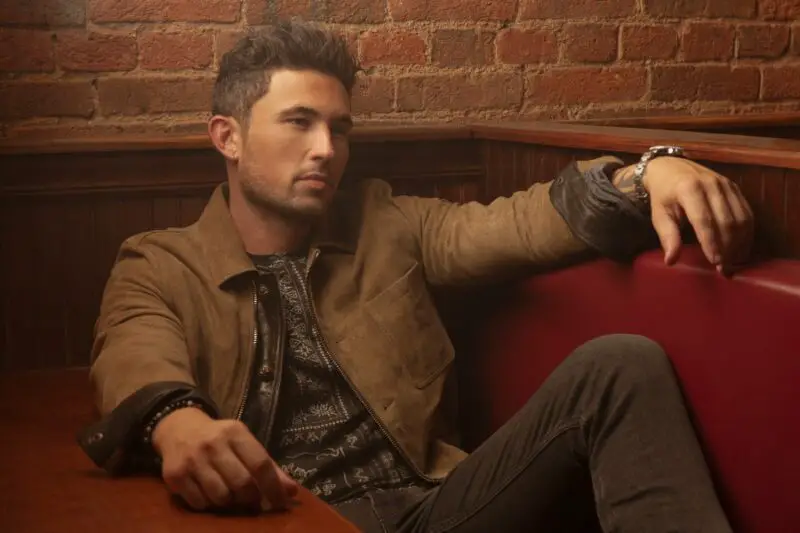 Michael Ray is putting the finishing touches on his upcoming third album, which we know will include both his current single, "Whiskey and Rain," and the recently-released track, "Picture," Although Ray wrote only one song on his self-titled freshman record ("Run Away With You" with John Rich), and didn't write any songs on his sophomore Amos album, the 33-year-old hints there will be several songs by him — personal songs about his own life — on his upcoming project.
"It's no longer hard for me to be vulnerable," Ray tells Everything Nash. "I'll be honest, I think it was a confidence issue. I didn't know what I wanted to say in some things, or how to do it. Do I say that? … And now I guess my confidence is there and I really don't care. I just want to be open. I also know that God's given me a platform to reach out and to tell my story in ways that are connecting with people, and I think hopefully giving a voice to some that maybe don't feel like they do."
Although Ray was unable to be on the road for most of 2020, all his years of playing for his fans made him realize how much everyone is the same.
"Going through tours and having success and meeting fans throughout the world, you start realizing that you're not alone in a lot of things," Ray reflects. "We all pretty much grew up in some way shape or form differently, but kind of the same way. And so, it's been inspiring for me to write."
While the previous year had its own challenges for Ray, some of which played out publicly, he did find solace in the unexpected time to draw closer to his loved ones, a time he may not have realized he needed until later.
"Being home for me is such a soul cleansing," Ray acknowledges. "I always use the analogy, it's like filling up your tank in your car. It puts me back on track a little bit. I think being home, being with family that I don't get to see, or if I do get to see, it's an in and out type of situation — being able to actually be home for a little while a lot more than I have. [To be able to] do things with my dad more, see my mom and my sisters, my nieces and my nephews, and just be around people that have been there since day one, and have never wavered, it means a lot to me. Being able to have that time at home I think just made me refocus on a lot of things, and honestly get confidence back in who I am."
In hindsight, the singer-songwriter feels nothing but grateful for the previous year, even with the hardships.
"Our world's so crazy, and we're traveling all the time," Ray says. "For it to just be stopped, really puts you in a weird spot, and you have to reflect. I think when you hit a low, the only way to go is up. You know you're not going to stay there, so you gotta get up and go, and strap your boots and go onto the next day. And I think a lot of that healing came from my hometown."