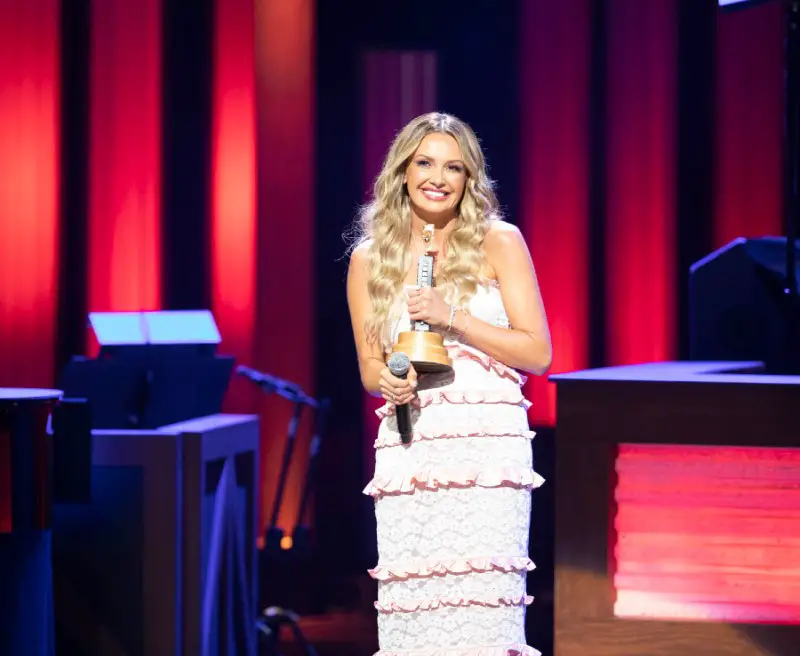 One year ago today is a day Carly Pearce will never, ever forget. It was on August 3, 2021, when Pearce became a member of the Grand Ole Opry, fulfilling a dream she held since childhood.
Pearce was invited by Dolly Parton  to join, tricked into believing she was filming a Dollywood promo, when in fact it was Parton issuing the official invitation to become a Grand Ole Opry member.
"Dolly is not only one of America's greatest living songwriters, vocalists, entertainers and superstars," Pearce said after her invitation. "She represents all of the values country music holds for me. She has the grace of a woman in full, a heart that is all love, the grit to get it done, the courage to stand up for herself and just enough glitter to be everyone's fairy godsister…"
"And the Opry? It's been the greatest love of my life since I was a young girl listening with my grandparents," she continued. "All of the greatest writers, legends and pioneers have been on that stage, and I feel them in my bones anytime I walk in the stage door… To actually be asked to join the Opry family, there are no words."
It was Trisha Yearwood officially inducted Pearce into the Grand Ole Opry.
"There are a lot of things that I could say, and I've tried to think of how to sum up what this means to me," Pearce said during her induction ceremony. "The best way to describe it is, when I was a little girl, I dreamt of country music, and I dreamt of singing on this stage. And my grandma, my Mamaw and my Papaw Pearce, I always told them that if I made it here, they would be front row. And they didn't get to see that happen, but I really do genuinely feel like they're here with me tonight. And I know that it was my dream as much as it was theirs."
Pearce performed on the Opry stage more than 80 times, after making her debut in 2015, before she was invited to become a member. Although she dreamed of becoming a member for years, the Kentucky native patiently waited her turn, hoping and believing the invitation would someday come.
"I don't think I felt frustrated," Pearce told Everything Nash of her lengthy wait. "I knew that they knew how badly I wanted that. And I think that for me, it just was more fuel under the fire to make sure that I continued to show them that this wasn't just something that was an added accolade, or another feather in the cap that I would forget about after a month, but that this was truly a lifelong commitment to be an ambassador, the way that I feel like Carrie Underwood has in her career. And I knew that it would come at the right time. So I just continued to kind of do what I always do, which is just put my head down and work."
Pearce's next scheduled performance at the Grand Ole Opry is currently on October 4. Her current single, "What He Didn't Do," is at radio now. Pearce is spending the next few weeks on the road with Kenny Chesney on his Here and Now 2022 Tour. Find music and tour dates at CarlyPearce.com.