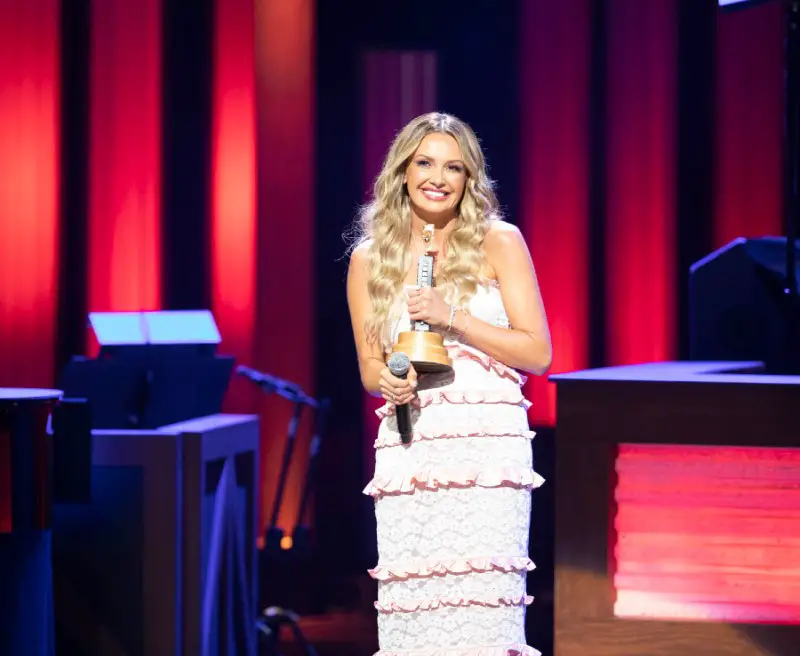 Carly Pearce played the Grand Ole Opry more than 80 times before she was invited to become a member. After watching some of her peers, like Luke Combs and Kelsea Ballerini, achieve her career goal ahead of her, the Kentucky native says that the wait only instilled in her a desire to work harder than ever before.
"I don't think I felt frustrated," Pearce tells Everything Nash. "I knew that they knew how badly I wanted that. And I think that for me, it just was more fuel under the fire to make sure that I continued to show them that this wasn't just something that was an added accolade, or another feather in the cap that I would forget about after a month, but that this was truly a lifelong commitment to be an ambassador, the way that I feel like Carrie Underwood has in her career. And I knew that it would come at the right time. So I just continued to kind of do what I always do, which is just put my head down and work."
Pearce might have extended a lot of patience in her waiting, but it was all worth the wait when the invitation was finally extended, since it was Dolly Parton who invited Pearce, marking the first time the Country Music Hall of Fame member had invited someone to become part of the hallowed institution.
"That was crazy. I actually just got chills thinking about it," Pearce says. "She means so much to country music and the Opry, but she also just means so much to me growing up, singing at Dollywood, and just always thinking that I wanted to somehow follow in her footsteps in a small way. And the fact that she took the time to do that for me. That moment was a moment that I've dreamed about my whole life. To have her do it was just crazy."
It was Trisha Yearwood  who formally inducted Pearce into the Opry, which Pearce says will always be one of the biggest highlights of her life.
"I've seen a lot of my dreams come true over the last few years, but I think what makes this place so special, what makes this family such a place that I wanted to be a part of, is because you can have hit records," Pearce maintained. "You can sell out shows. You can be on awards shows. But all of that can fade, and this is something that I will have forever, and a place that I can come to, and a stage that I can sing on, and a circle that I can stand in, and a family that I can be a part of, and that can never be taken away from me. And that's super special to me.
"All I've ever wanted to do in the entire world is sing country music," she continued. "The Grand Ole Opry let a 25-year-old Airbnb cleaner — yes, that's me — stand on this stage before I ever had a record deal, so I kind of feel like I've grown up in this industry over the last five years with them. Grand Ole Opry, this isn't another feather in my cap. This isn't another accolade. This isn't another thing to add to my wall. This is a promise to all of you, and to this organization, that I will do my due diligence as a Grand Ole Opry member to make sure the circle is never broken."
Pearce just announced the release of her 15-track album, 29: Written in Stone. The record, which will be out on September 17, is available for pre-order here.
Photo Credit: Courtesy of Schmidt Relations / Chris Hollo
Want more exclusive artist interviews? Subscribe to our YouTube channel here.