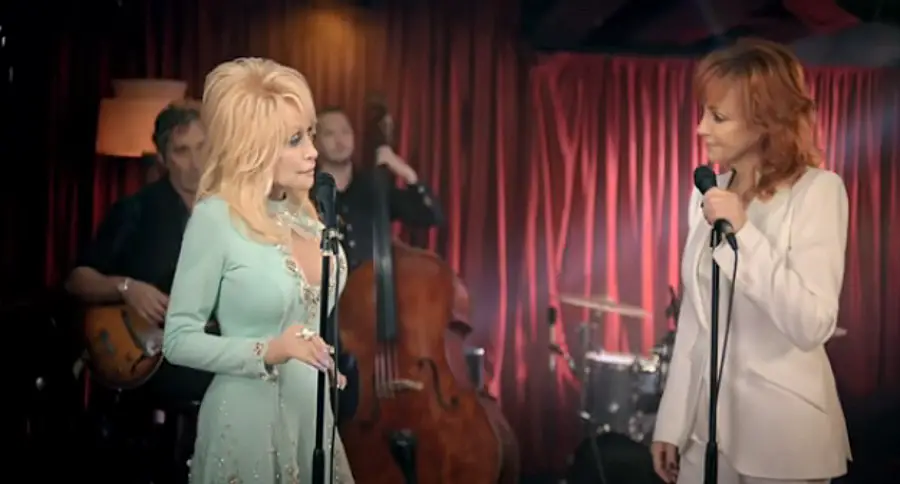 For years, Reba McEntire dreamed of recording a duet with Dolly Parton. The Oklahoma native finally saw that dream come true, with their recently-released "Does He Love You" collaboration. The two Country Music Hall of Fame members were unable to record their song together in the studio, due to the pandemic, but they were able to shoot the video together. although it didn't go quite as McEntire had hoped.
While McEntire planned to get ready in her trailer on-site, the trailer's generator went out, leaving her without electricity. Instead, McEntire and her crew went to her Nashville office to get ready, making her late for the "Does He Love You" video shoot, with Parton arriving a full 40 minutes ahead of McEntire as a result.
"I was so panicked," McEntire told People. "That really bugs me. Get there early, be prepared, don't waste anybody's time and show respect. That was always my motto. For her to beat me there, oh my gosh."
McEntire already knew Parton would do a great job on "Does He Love You," but she admits she was blown away by the finished product.
"I asked her when we were shooting the video," McEntire said on Apple Music Country's Proud Radio with Hunter Kelly, speaking of Parton's process for recording the song. "She said, 'I just sing what I feel.' I said, 'How did you come up with when you came in and all that?' She said, 'I just sing what I feel.' And I loved it. I don't know how many takes she did. Probably one. It was so powerful when she does come on strong, [on] 'when I'm deceiving myself.' It was just, oh my gosh, [it] gave me chills. And I sat there the first time I heard it, I said, 'Play it again.'"
The 66-year-old just announced she will embark on her Reba: Live in Concert Tour, kicking off on November 26 with two back-to-back shows in Oklahoma. "Does He Love You" is part of McEntire's three-box set, REVIVED REMIXED REVISITED. Find tour dates and all of McEntire's music at Reba.com.