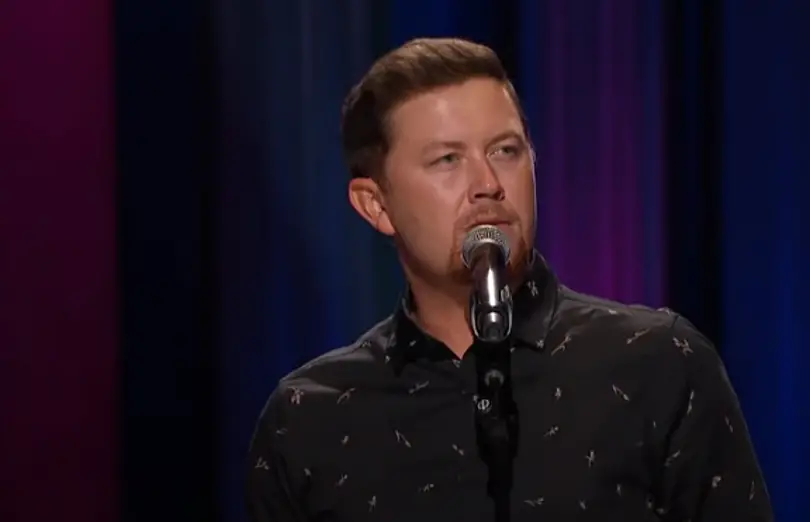 George Strait might be one of Scotty McCreery's biggest musical heroes, but the American Idol winner just proved he can sing one of the King of Country Music's biggest hits. McCreery performed a cover of Strait's 1997 hit, "Carrying Your Love With Me," ahead of his recent performance in Bristol, Tennessee.
It was Strait who inspired McCreery, even as a young child, which is why he wanted to honor him with his current single, "Damn Strait," currently in the Top 10. The video was shot  in the iconic Gruene Hall in Texas, where Strait got his start performing
"The label is always happy to do it right there in Nashville and keep costs down.," McCreery told The Houston Chronicle. "But for this particular song, there's no other place to shoot this video. It just felt right. And you could kind of feel the aura of George there."
"Damn Strait," written by Trent Tomlinson and Jim Collins, is on McCreery's latest Same Truck album, one of only two songs that the North Carolina native didn't write for the record.
"I was writing songs left and right," McCreery told Everything Nash. "We had the songs put on there, but for me, when I heard a song 'Damn Strait,' I immediately raised my hand and said, 'Me, me, me.' It's such a cool song. It's so cleverly written. And obviously, I'm a massive George Strait fan. It just sounded so much like me."
Strait clearly approved of McCreery honoring him with the song, sharing the video on his own social media channels after it was released.
"He's the King of Country Music," McCreery told CMT. "Hopefully, he enjoys this one if he hears it because I sure love singing it. I'm sure he's heard tribute songs before. For me, what's not to love? He's the King. I sure hope he likes it."
Fans will have plenty of chances to hear McCreery perform "Damn Strait" on the road this summer. See a list of upcoming tour dates, and find all of his music, at ScottyMcCreery.com.