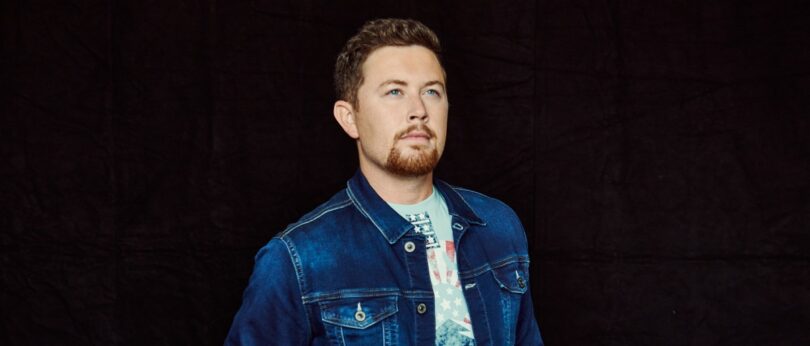 Scotty McCreery paid homage to one of his musical heroes, George Strait, in the video for his latest single, "Damn Strait." The American Idol alum filmed the video at Gruene Hall, in New Braunfels, Texas, which is where Strait's historic career began.
"In the fall of 1975, the first of what would be many performances by 'Ace in the Hole Band' took place at Gruene Hall in New Braunfels, TX," the video begins, as McCreery is walking towards the venue. "For six years the band was a Gruene Hall fixture, spending what little time they had between shows traveling to Nashville in hopes of landing a record deal. In 1981, after several failed attempts at a recording contract, the group made one last trip to Music City, resolving, 'If it doesn't happen this time, it will be our last try.' By year's end, Ace's lead singer, George Strait, would make his major label debut with the release of Strait Country. The album marked the beginning of the country giant's decades-long career."
McCreery previously said "Damn Strait," one of only two songs he didn't write on his latest Same Truck album, was the perfect way to honor the King of Country Music. Written by Trent Tomlinson and Joe Collins, McCreery knew right away that the song was meant for him.
"I was writing songs left and right," McCreery told Everything Nash. "We had the songs put on there, but for me, when I heard a song 'Damn Strait,' I immediately raised my hand and said, 'Me, me, me.' It's such a cool song. It's so cleverly written. And obviously, I'm a massive George Strait fan. It just sounded so much like me."
It was someone from McCreery's Triple Tigers record label that sent McCreery "Damn Strait," a song he instantly fell in love with.
"He said, 'Hey, take a listen to this song. It just came through for you,' and I kind of had a little mini freak out session because I'm a huge George Strait fan," McCreery recalled to Billboard. "I love the different tidbits in there of songs of his… It's a classic country breakup song, but [it's also] paying homage to George Strait throughout the song. It's so cleverly written. If you're a country fan, a George Strait fan, this song is so cool."
McCreery is currently headlining his Same Truck Tour. Find music and tour dates at ScottyMcCreery.com.