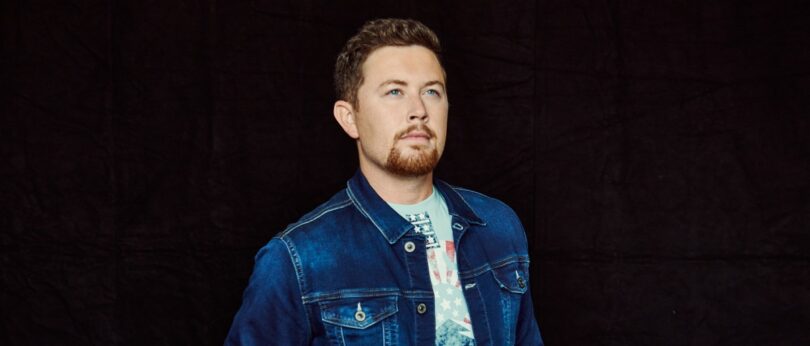 Scotty McCreery just teased on social media the release of the official video for his latest single, "Damn Strait," which he hints was filmed where the song's subject, George Strait, resides.
"On February 8th, Scotty McCreery takes you to the place where the King of Country was born," a black and white video hints, along with footage of McCreery with throwback photos of Strait.
02/08/22 👀 pic.twitter.com/ILNwkqacbm

— Scotty McCreery (@ScottyMcCreery) February 3, 2022
"Damn Strait" is from McCreery's latest Same Truck record. The song, written by Trent Tomlinson and Joe Collins, is one of only two that McCreery didn't write on the project, but one that he knew as soon as he heard it that it was perfect for the record.
"I was writing songs left and right," McCreery told Everything Nash. "We had the songs put on there, but for me, when I heard a song 'Damn Strait,' I immediately raised my hand and said, 'Me, me, me.' It's such a cool song. It's so cleverly written. And obviously, I'm a massive George Strait fan. It just sounded so much like me."
McCreery recorded "Damn Strait" as an ode to his biggest musical hero, a tribute he hopes Strait hears for himself, and appreciates.
"He's the King of Country Music," McCreery said (via CMT). "Hopefully, he enjoys this one if he hears it because I sure love singing it. It's an ode to him all about his classic country heartbreak songs. I'm sure he's heard tribute songs before. For me, what's not to love? He's the King. I sure hope he likes it."
The North Carolina native is rightfully proud of the deeply personal Same Truck record, which he admits likely never would have happened if not for the extended time at home because of the pandemic.
"I had the time to really sit back and reflect, and think about things that are important to me, really for the first time, since I was 15 or so," McCreery acknowledges. "I had that time to do that. I think that put me in that mindset for writing some of these songs, and the perspective in some of these songs. My previous albums were very much more looking ahead. This one's being grateful and looking back, and taking it all in."
McCreery is currently crossing the country on his Same Truck Tour. Find all of McCreery's music, as well as his upcoming shows, by visiting his website.