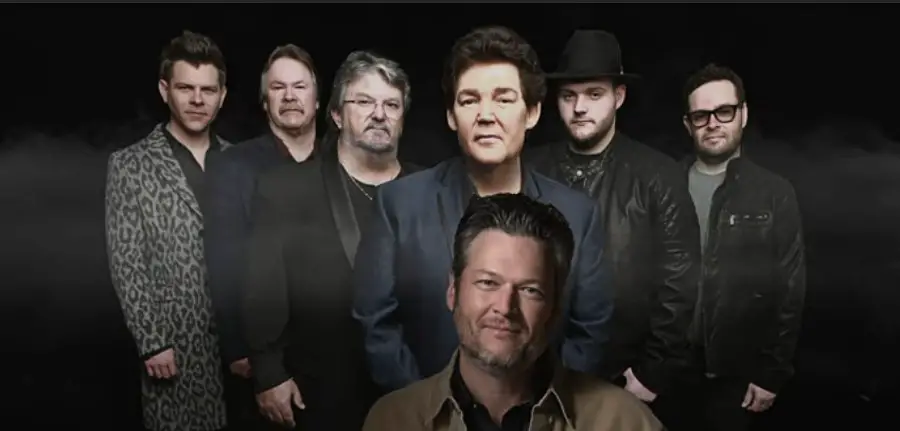 Blake Shelton joins Shenandoah on their star-studded Every Road album, singing on the track "Then a Girl Walks In." Although the record includes guest vocals by numerous artists, including Luke Bryan, Lady A, Ashley McBryde and more, it's Gwen Stefani's future husband, who lead singer Marty Raybon says makes Every Road the project that it is.
"Blake Shelton is truly a big piece of this new record," Marty told People. "His vocals are as solid as a slab of concrete. This would not be a today's country music duets album without him being a part of it."
"We knew Blake must be a Shenandoah fan when he picked one of our songs for the past four seasons in a row on The Voice for his artists to sing, but we never dreamed we'd have the opportunity to actually do a duet with him personally," added drummer and Shenandoah co-founder Mike McGuire. "What a blessing! Garth [Brooks] may have friends in 'low' places but we have friends in HIGH places. Thanks Blake.
It was Marty who approached Blake to sing on Every Road with them, during the 2019 CMA Awards, and thankfully, he agreed. Every Road marks the group's first record of new songs since Good News Travels Fast was released in 2016.
"It's all brand-new stuff," Marty previously told The Boot. "I think what we're gonna do with it is, we're gonna expand on what we've been doing, taking it in a little bit of a different direction to the point where we can actually open up the borders a little bit, and allow us to build a bridge so that some folks can come across and we can go across to some places we've never been."
"We're gonna try to focus on the Shenandoah sound of the late '80s and early '90s, and mold the artists that are coming aboard," he continued. "We're gonna let those guys that are doing that new sound thing in town do that new sound thing, but with a Shenandoah approach."
Shenandoah already released "I'd Take Another One of Those" with the Zac Brown Band, "If Only" with Ashley, and "Every Time I Look at You" with Lady A. Every Road will be released on November 13. It is currently available for pre-order at ShenandoahBand.com.